The weekend was outstanding. The temperatures hovered at 98 degrees Friday, Saturday, and Sunday. We don't have air conditioning. We don't need it (ha! HA!) . We REALLY needed it today, but we keep telling ourselves we don't. It's just a few days in the summer that get unbearable. We all head to the basement. It's cool, about 72 degrees down there. That's where my sewing room is----thank goodness.
I finished my Gift for my Mother-in-law.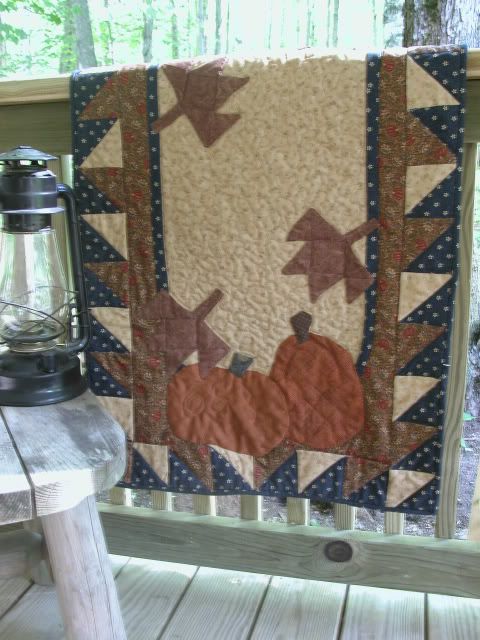 I usually hate everything I sew for about 2 weeks after it is complete, but I really like this piece. If I could change anything, I think I would have put a big black crow sitting on one of the pumpkins on each side of the table runner. I'm shipping it to her this week.
My piece for my Mom and the kids teacher is coming along well too.
Working on the pumpkin piece I ran out of thread 3 times. But it was always after I completed the portion that needed that color thread—there was always just enough. I need ten colors of thread to do the machine appliqué for my mom's piece and amazingly enough I had every color. How often does that happen---very seldom. As corny as it sounds, I feel like when I do things for the right reasons, things seem to fall into place.
I had 6 kids in Sunday school. We talked about giving. I told them how it is not enough to give of your time or to help others if you do it begrudgingly. Your heart has to be in the right place. I think I got the point across, but that's not an easy concept for adults much less 4 and 5 year-olds.
Don tilled in-between the rows of my garden for me, so that means less time weeding. It's another one of those things he does for me that I never take for granted.
Say a prayer for Chelsey. She's got another interview tomorrow.
Gratitudes:
1. Tall glasses of ice water.
2. Homemade salads
3. Air conditioning in my car.