83 hours later - It's finished. Granted, the 83 hours was over a span of two years, but I'm still just as proud of it.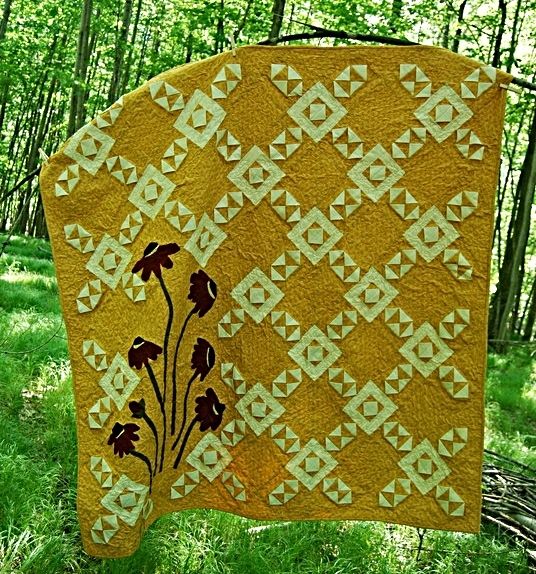 The quilt started off as an experiment to see exactly how long does it take to make a quilt. Quilting is a hobby for me. I still man a 40 plus hour a week job, along with a great husband and a couple of high maintenance pups. People always ask, " how long does it take?" I never knew. I spared them of the details of the difference between piecing , appliqueing, paper piecing, etc.. I did not discuss the merits of the machine working effortlessly versus those days when a stitch never seems to go one after the other. But I kept count.
I had 58 hours, I believe going into the applique portion, 3 hours in the binding. So between appliqueing and machine quilting there was 22 hours.
I made several baby quilts, a couple of pieces for my mom, a set of curtains, and remodeled a kitchen somewhere in the middle of all this. I hate UFOs. I feel defeated and honestly-- wasteful. I saw the pin of the quilt on Pinterest and loved the quilt all over again. I thought how pretty the black centers would blend with my dark kitchen counter tops now.
And I went back to work on the quilt.
I cut the borders out first-- to insure I had yardage without piecing them. What borders? Guess what happened -- in all the 'minute counting' and rush to complete to move on to the next project-- I forgot about the borders. I simply appliqued and stretched it on the quilting frame and again plowed into machine quilting. It wasn't until I looked at the pattern still laying on the coffee table that I realized the error.
I was incredibly disappointed. I looked at how I could add them, should I try removing the quilting I had already begun. I talked with my mom. She said the quilt is twin size without the borders and would still do a 'fine' job of keeping someone warm...The borders weren't meant to be,
I let go of the disappointment and love the quilt just as much.
Lessons learned. I'm not plowing into anymore projects. It's my hobby for the shear enjoyment. No more. No less.
Have you ever had a quilted piece that you look at and it reminds you of something. That's what this piece will do.