I woke up at 1 am, and listened to the rain falling outside. That's the difference between spring and winter. You may here the wind howl occasionally, but you never hear snow fall. Rolled over and awoke again as Don got called into work at 3am. At 4:30, Ransom and I got up and had cinnamon toast for breakfast.
Still praying over garden seeds--- Some from
Stina
and
San
and some I've purchased. Don says I can't walk by a seed stand without picking a package.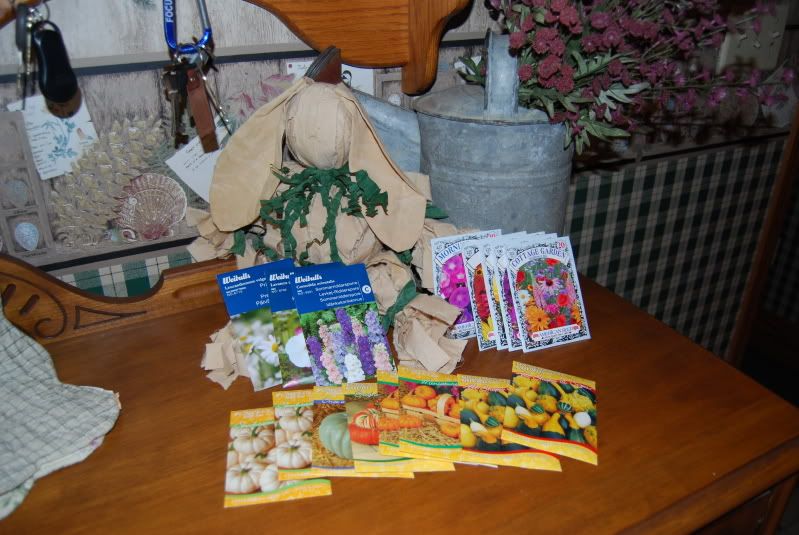 So far, I haven't gotten a package to grow anything to eat….glad I don't depend on the harvest for survival. But life is way too short to live without flowers and pumpkin gourds anyway. I still plan on purchasing carrot, beans, cucumber seeds along with pepper, broccoli, and tomato plants.
We hadn't chatted this week, so I wanted to check in. The Sunday School conference was outstanding. I learned tons of new ideas for working with four year olds. My favorite part was when other teachers had problems on how to handle different situations—I had ideas on dealing with the issues. I guess after fifteen years of teaching experience starts playing a big role in it.
Linda
sent me a friendship gift that popped up in my mailbox yesterday.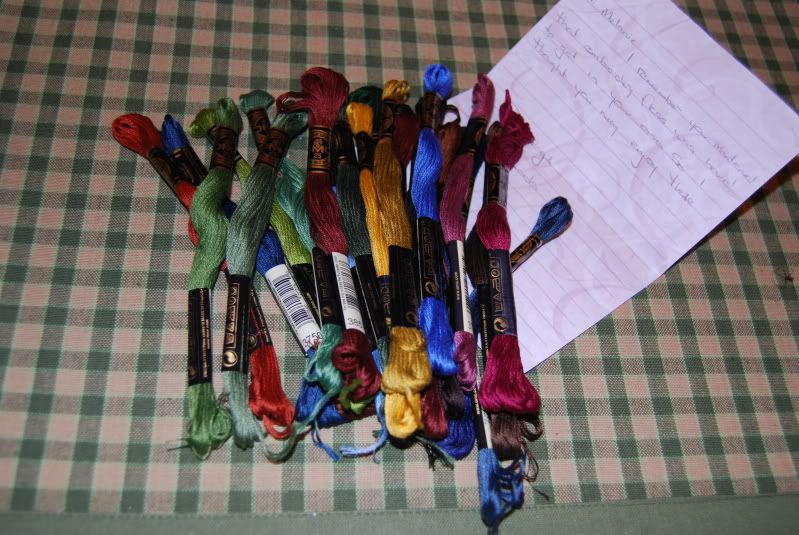 I plan on using some tonight while I watch television. She's a great friend for keeping me "grounded" through family trials – her response has always been, " Go to God…" sounds easy, but it's something I'm really working on. She's a keeper. I cannot purchase DMC floss in my hometown. In fact I have to travel a good 60 miles before coming close to finding some, so skeins of floss are pretty special.
What have I been working on? I'm calling it my vintage porch quilt. Here's a sneak peak at the squares.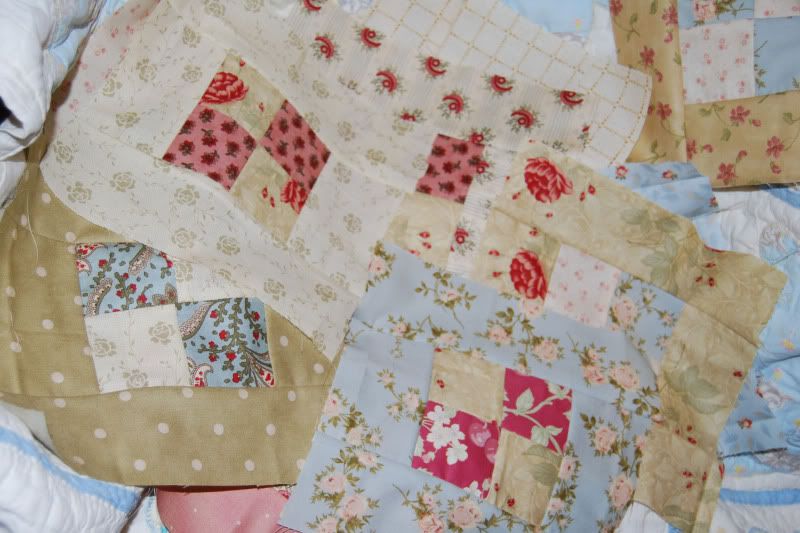 On one hand I get a little nervous--- what if it turns out ugly???? But then I look at the blocks again, and I've been studying other vintage quilts and I think it's going to be wonderful. We'll keep you posted.
I was looking for a background to photograph the blocks. It's raining, so an outside shot wouldn't work. My house is full of the cabin colors of pine green , khaki, and cornflower blue. So I went to my linen closet and peeking out was my baby quilt my grandmother made me.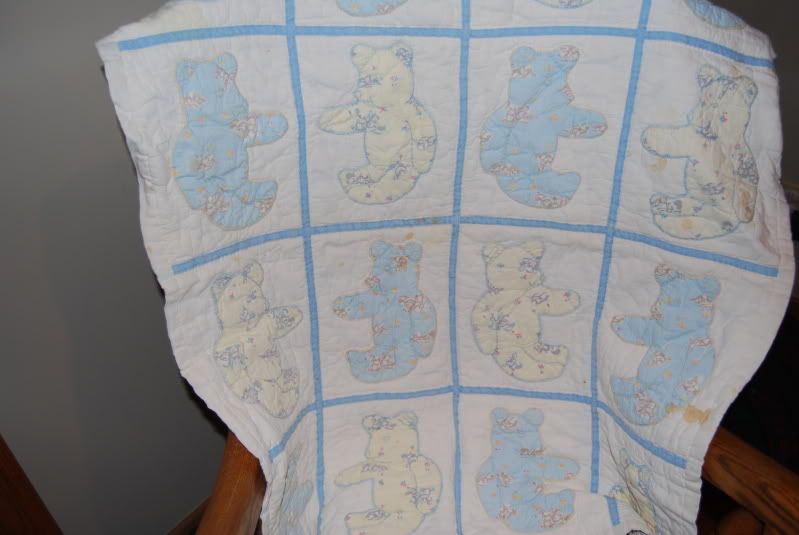 After three years of journaling I laugh at the thought of there being anything left to talk about. But this is really cool stuff. Think about it--- this quilt is close to 50 years old--- getting closer all the time…..
I was suppose to be a boy, hence the blue and yellow. I love the detail and the muslin background. The fabric has gray bunnies on it. And the buttonhole stitching around the appliqué is done by hand.
Looking closer I could tell, she basted the edges down and then went back and buttonhole stitched to attach it to the quilt block. I love the reverse images--- who am I kidding, I love everything about it… because my grandmother made it…..
Gratitudes:
Cinnamon toast
Raindrops melting snow
Slippers from my Mom