School was cancelled yesterday for the kids – wind chills reached 38 below zero at the airport. And think about it…there are no trees at an airport to break the wind---pretty brutal. To make it a totally perfect day--- I locked my keys in my car….But my boss gave me a lift home, and I got the spares…
I dealt with the day because I got mail earlier in the week. I've made a new friend—
Crazy for Primitive Gardens and Quilts
. She had posted that she had fallen in love with a quilt—twice and accidentally doubled up on the pattern.
We're working on our Primitive Garden Project together so I asked her to let me buy the saltbox pattern from her because I had longed for it for a couple of years. I'd set up "baby" goals and by the end of the summer we'd both have a new quilt. If I couldn't buy it, I wanted her to tell me another quilt pattern she'd like and I'd get it for her. Well, she gave me not only the pattern---but a trio of other patterns.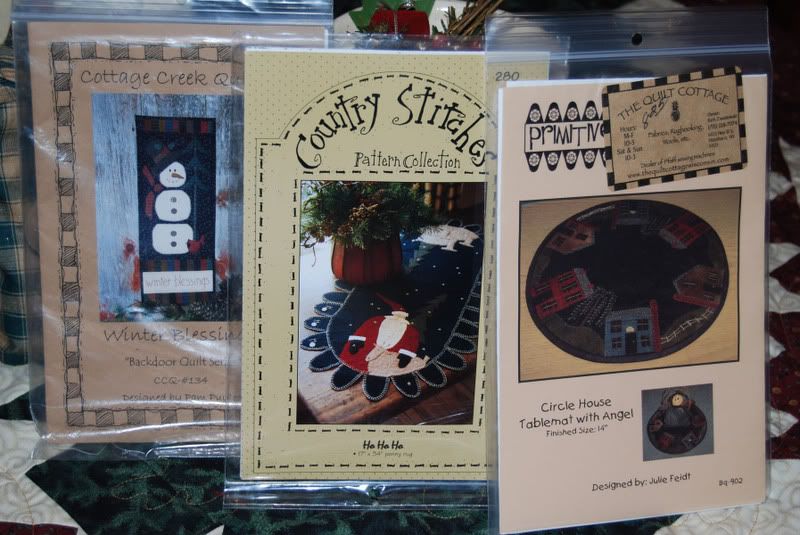 It's amazing how our taste is so similar and we both live in "Snow Country" and have teenage daughters. She even threw in the red charm squares that I already have plans for. And She didn't forget the chocolate. That can fix almost anything. If it weren't for quilting, I never would have met her.
The coffee pot was a gift from my Mom a few years ago, and the Snowman was a Sunday school project for my class. He's made from a tube sock filled with rice.
Stay Warm – The weekend is not far away….