I set myself up for evening stitching for the coming week. What looks like a blank canvas is turning into something that looks like home....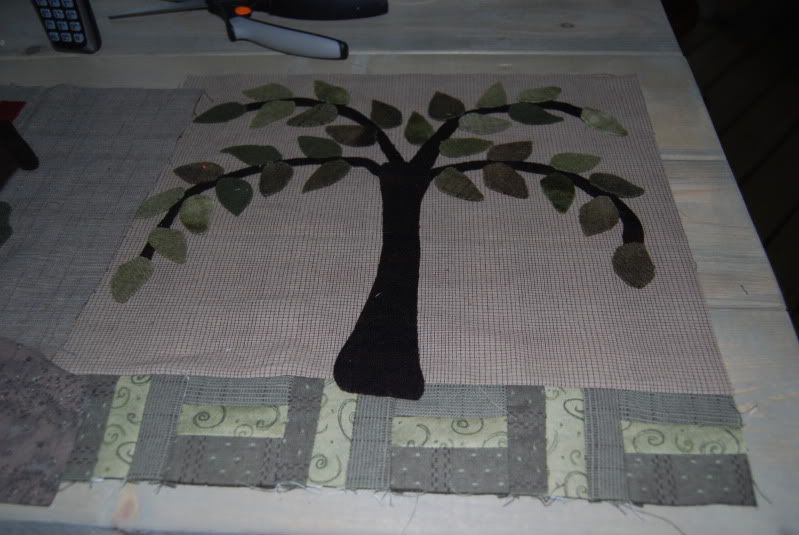 The leaves are just as green as they are in the woods right now. The winters are long and quiet, but our summers are filled with the sounds of leaves rustling, birds, chipmunks, crickets and frogs. Noisy and I love it.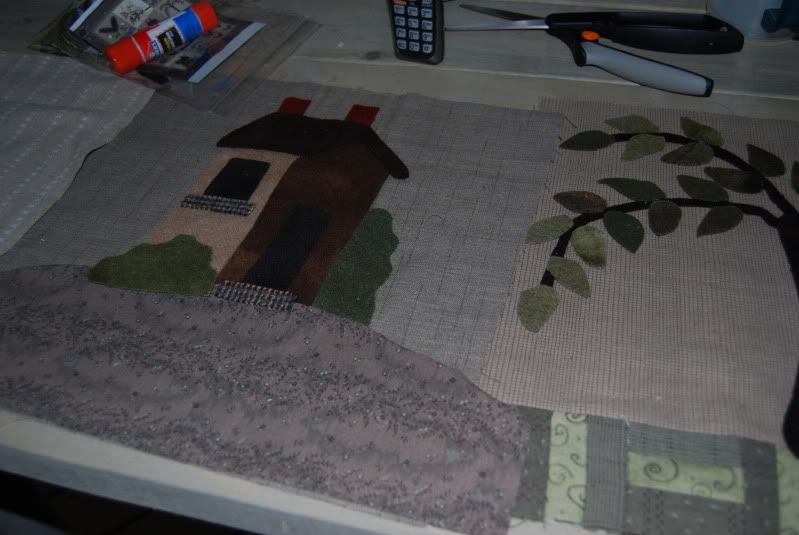 There will be a picket fence on this block, I'm just going to add it after the other pieces are down. For my wool applique you can see, I use children's glue stick instead of steam a seam. It works well for me and is somewhat of a time saver....plus my iron doesn't get gummy.
This block will have branches and leaves as well, but the blocks must be sewn together and in the interest of working with smaller pieces, I'm going to get as much completed before stitching them together. This is the block of the month quilt Heart & Home, by Heart to hands. I get my blocks from the Country loft. They do a really nice job.
The quilt has a cat on this block. Nothing against cats, I'm just a dog person. My dog Ransom is 11 years old. He's got arthritis pretty bad, we're afraid he probably won't make it another winter..... Winters are hard on everyone in the North. So I decided to change it ---- not being morbid -- but because I'll always have that smile about him when I look at it. Basically my kids raised him from a pup.... or did He raise them???.... Tons of life's lessons were learned compliments of Ransom. Now He kind of rules the house... I always say dogs look like their owners, " Look Don, his whiskers are white....yours like yours..."
Off to stitch.... It's going to be a great week.....