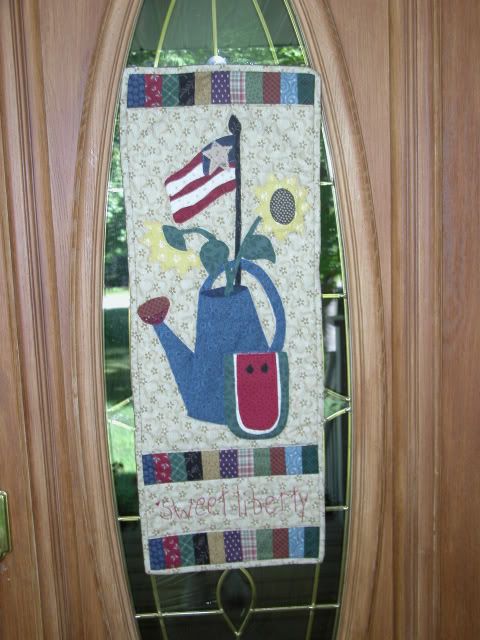 My Mom's gift is being UPS'ed out tomorrow. When this all started, I thought, let me make three---one for the teacher, my mom, and myself. I'm pretty tired of this one. Two is definitely enough. I think I like the blue binding on the first better, but after the centering issue, I stayed true to the pattern.
It was 101 degrees in the airplane hangar today. Needless to say, there was no so sense of humor. By the end of the day, I got tired of pretending there was. And what is it about people up here. I was born in Louisiana, lived there for 20 years and the second twenty I've lived almost in Canada. On hot days they say—Wow, you should be used to this---newsflash--- we didn't live like this in the south---we had air conditioning EVERYWHERE…. And after 20 years you would think they would give me amnesty and let me at least pretend to be a northerner. Gripe of the day complete.
On the quilting front, I'm cleaning the sewing room if I can get all the chores accomplished. I don't think I'm running Ransom; I don't want him getting over heated. Maybe we'll go real late. We're definitely looking at some unfinished projects before starting a new one this week. Sooooooo, the Buggy Barn pattern is going to be tucked away somewhere, because I'm weak.
Another snapshot----Centering….That necessary evil that I always come up short on….Oh well, nothing that a little Heart in front can't fix……
Until Tomorrow – Live up Today
Gratitudes –
1. Summer Grilling
2. Air conditioning in the Jeep
3. Oatmeal Cookies…no raisins.