No sewing this weekend. Honestly, I didn't even get a chance to walk in my sewing room. But sometimes life is like that. I through a minor fit about it Sunday night, but I think it was more "The weekend is over" than I didn't quilt. I made good choices and got lots of stuff done.
Don took Eric back to Ferris Saturday morning early. Eric said-"Mom I'm going to miss your lists." When it came to packing, the only contribution he'd let me make was a list of things to pack. He gives me a hard time, but my lists have saved his "hiney" a time or two.
Chelsey and I made a flying trip to Green Bay for a Homecoming Dress. Her high school homecoming is the second week of school. So, I figured we better check that "off the list". Our destination was Appleton, but we stopped at one store in Green Bay for a restroom break, and I said—"Let's just check it out". We tried on 8 dresses, with the usual-"It's ugly", "it makes me look fat," Finally, I was looking for a bigger size and found a dress—"Chelsey just try it on… no comments…try it on for me…" Viola—Enter stage left—"The Perfect dress." From tears to happiness in a matter of twenty minutes.
I guess by her senior year I have her figured out and I don't lose my cool. We went out to lunch and went to Hobby Lobby just to wish. Scrapbook paper was 50% off. Yeah, just like Chelsey says, "Mom, all of this paper you bought looks just like fabric…" I guess I'm pretty easy to read.
We made our purchases and headed home…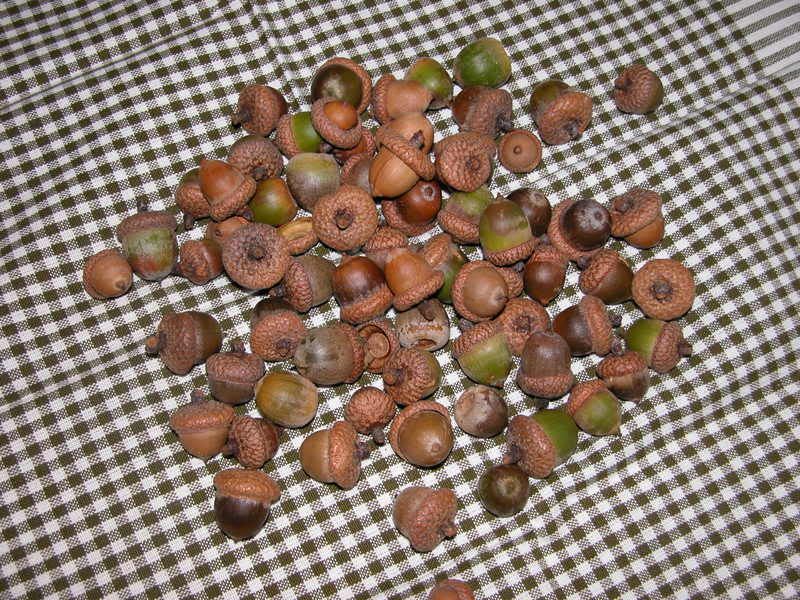 I've started collecting acorns for my sunday school class. A cheap craft--- drill holes in them and the kids string them with floral wire and we add a bible verse. The seasons are really starting to change...
I stayed up late and got the weekly house cleaning done. Sunday was church and grocery shopping. Don got back home and decided to paint a room in the basement. It's not fair to have him do it alone, so He took the brush and I handled the roller… One more coat tonight and it'll be complete. The room used to be the kids toy room. It's kind of grown into a video game room… but Chelsey and I have delusions of adding an opening in the wall that connects the room to the scrapbook/sewing room and expanding our territory. Don looks at me out of the corner of one eye and says, "it ain't gonna happen…" Oh well, a girl can dream…
Gratitudes:
Everyone's safe travel this weekend
A job to fund the weekend
A good night's rest