I saw pictures of this piece before I even had the magazine. I knew I was going to make it the minute I pulled the Winter 2012 issue of Primitive Quilts and Projects out of the mailbox.. When it came, I was immediately pulling fabrics from my fabric cabinet to put the quilt together. Yes, I could have waited until I went to the Quilt shop and purchased similar fabrics from the magazine pictures, but no--- I was completely too impatient for that. I pulled and started cutting.
As usual, --life-- got in the way. Work, laundry, vacuuming--- all those things we'd like to pretend that don't have to be done.
In the mean time, Quilters started posting their finished projects--- the one.... that had gotten on the back burner due to 'life'. Wow--- my fabrics were way off from the Magazine photos, and just as far from the internet quilters as well. I started second guessing my choices.
They were cut out and wasted. In my head, I thought it would all come together, but now I was having my doubts.
I decided to put it together anyway. The more I sewed, the more stressed I got. My quilting time is sacred and to be working on "a dud" was not O.K.
Then there was a turning point. I took some snapshots and things didn't seem so bad.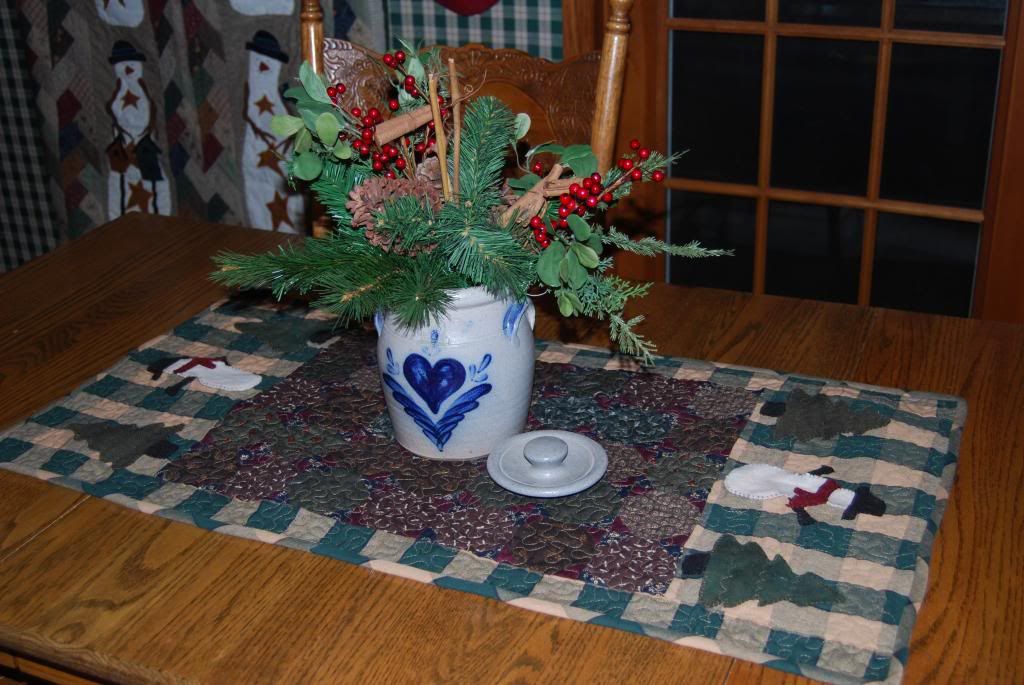 Last night, I finished the project and I love it. It doesn't look like everyone else's pieces and I'm kind of O.K. with that. Not everyone has a house in the Northwoods of Michigan.
I left off the moon and stars. I didn't want to introduce another color into the piece. My appliques are wool scraps that I'm always talking about saving....and the binding is cut on the bias.
It looks like Winter without screaming, "Christmas", so I can used it a lot longer that 4 weeks a year.