She's not vintage 1990--- she's brand new and I made her myself---I love the pillow ticking legs and the carrot necklace. Blue and Green are a great combination for a Northwoods Spring and that's the color of her clothes coupled with her coffee dyed ears. Don picks at me about hanging dead rabbits in the kitchen, but I think she's pretty darn sweet. She hangs on a quilt rack next to the bunny quilt....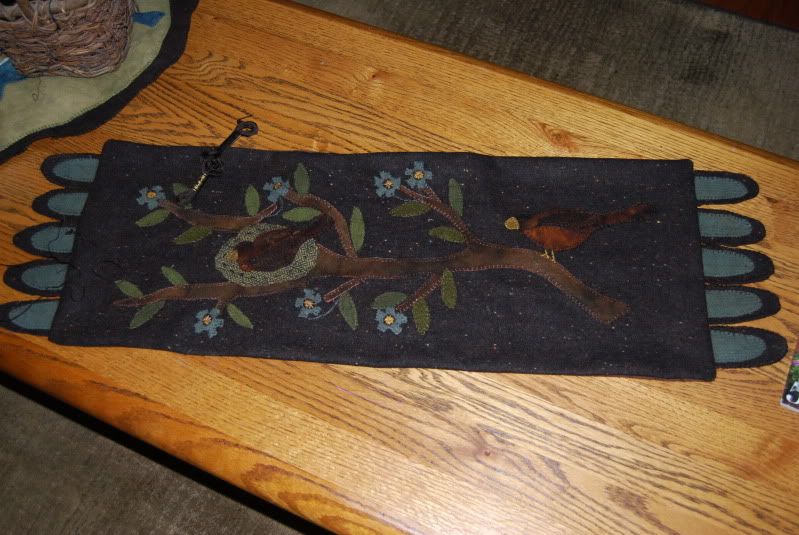 This wool piece is almost complete. The kit was a Christmas gift from my mother-in-law. It's Called 'Patiently Waiting' and it's designed by Lisa Bongean. You can get it at
Primitive Gatherings
on-line. Here again Spring Pastels just don't work in my house, but Spring still comes....
Don's been in and out with his job and so I've been manning the fort on my own alot this month. Exhausting---but I married for love instead of maid service so I'll be fine.
I'm steadily working on Eric's quilt. He has two close friends also graduating. I had dreams of getting them a quilt ready to give at graduation, but the pressure started overpowering me-- and I was afraid of being chained to the sewing machine and missing Spring. So I have a gift-- I'll show later, and I'll make them something smaller to go with it. It's the thought-- and I think the world of both of them...
We've had 80 degree days and tonight a probability of 3 inches of snow tonight. Every warm day is a gift in the U.P. .....especially in March. The snow has melted from an 18 inch blizzard earlier in the month and there's a green haze through the woods... The pups keep the screen door flapping-- never content to be in or out-- everything is coming back to life around here.....