Look what came in the mail yesterday—April's Block for the Primitive Garden. I just love it. The colors just jump out at you.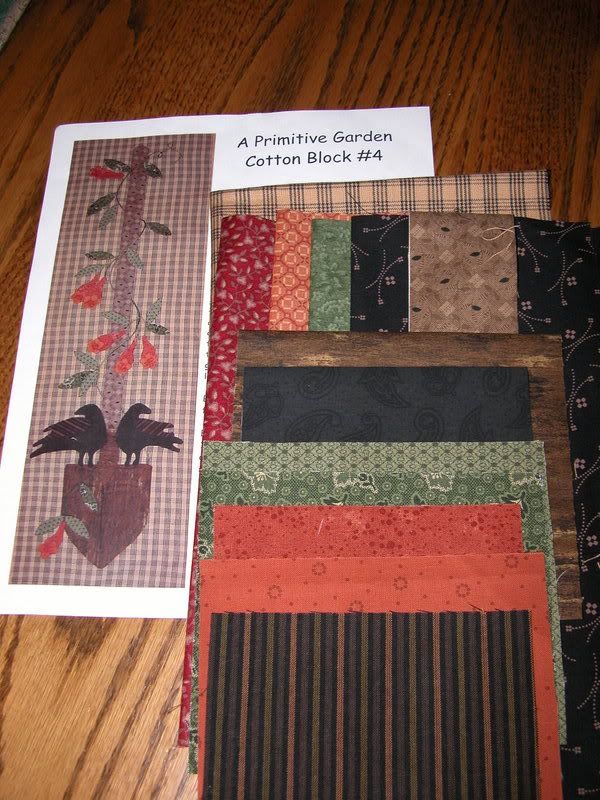 Except for pumpkins, I don't think I have a single quilt with orange in it so I'm looking forward to getting this put together. Extra fabric is included each month for a scrappy border that will join all the blocks. I try to complete the current block before posting the next, but I just liked the rusty shovel ----- it wouldn't wait. You've got to remember, this is kind of a mystery quilt for me as no one has seen the finished quilt and Lisa Bongean is detailing as she goes along.
I went on and outlined this block as long as I was setting up the placement for the March block as well. It's so portable I can work on it in any room of the house or even on the porch with weather permitting because I'm hand appliquéing it.
No quilting tonight. I'm running by the grocery store after work and getting the house presentable for dinner guests tomorrow night. I love having company so this should be fun. Chelsey's got plans so she won't be there and Don's grilling.
Ransom and I walked the perimeter of our property last night. If the weather holds out we may be raking – not this weekend, but next. Eric will be home and we can make him feel like part of the family --- hand him a rake. Raking is a funny thing. We do it like mad in the fall to gather leaves before the snowfall. Then we're at it again in the spring to fluff up the grass covered with snow all winter.
Gratitudes:
Sugar
Candles - Harvest is my favorite (next to Apple Pie)
My Carhartt Painter's Bibs