We woke up to some severe thunderstorms. It stormed for about 2 hours. We needed the rain, but the bad weather makes me uneasy. I took a couple hours off early from work on Friday and came home and got the weekend housework done. Chelsey and I knocked it out, so we could play all weekend.
Have you sat down and looked at your unfinished projects? I have. I'm one of those that likes to finish things or it bugs me… most of the time.
Jeanne
talked about that block of the month quilts weren't her thing. I started thinking about my BOM projects. I've completed one in its entirety. The quilt in the photo is a BOM from several years ago..
I think it was when
Thangles
were just invented and they had patterns for free. Over the Christmas holidays I discovered quilting on the internet. I had more fun. It was the first time I could make a block and get another pattern. I put the maple leaf and the flying geese in the corners, my favorites. But look at the picture…Only nine blocks…I didn't have the patience to wait for the other three. I completed another BOM quilt, but I started late, so I stayed entertained until the end. But guess what my 3 unfinished projects are…you got it…block of the month quilts. I just never realized what the common denominator was. One I just have some hand quilting left. Another, I just have the wool appliqués left to do. The last quilt, I've got tons left to do. Any quilt, even one you love, for me gets boring before you complete it when it drags out for so long…..twelve months. I thought they were great ideas. Especially for working Moms, because each month you would have a small victory.
I'm trying to give myself this talk that I should complete one old project and reward myself with a new one, and then go back and complete an old one and by the end of the year they may all be done. I've really got issues with wasting and right now, I feel like I'm wasting a potentially good quilt. I guess this is one of those 'sounds good on paper' ideas. But I'm still kicking it around…I'm just dead to work on the Buggy Barn Quilt.
We made our ten mile bike run today. Eric came with us. .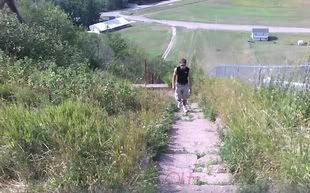 Don took a picture of him with his phone at step 410. Me, I made it up to step 50 and back…remember..in all things… baby steps.
Until tomorrow---live up today.