Jumping a little ahead of the posting date--- here is my last block of My Garden Block that May, Sue and I worked on together.
It was cold, snowy, and windy—This is as good as it is going to get on the photo opt. When I chose the wool for February's block my heart might have been think pink and red with Valentine's day…but my sight and mind knew in the U.P. Garden weather doesn't look like that.
It pretty dark and cloudy most days.
I start getting spring fever this time of year--- memories of growing up in Louisiana start creeping up that I have to fight to tuck away. Thank goodness for quilting.
I have about ten inches left to quilt on Penny Garden. When I was at JJ Stitches back in October, I found fabric clearanced for the borders for this project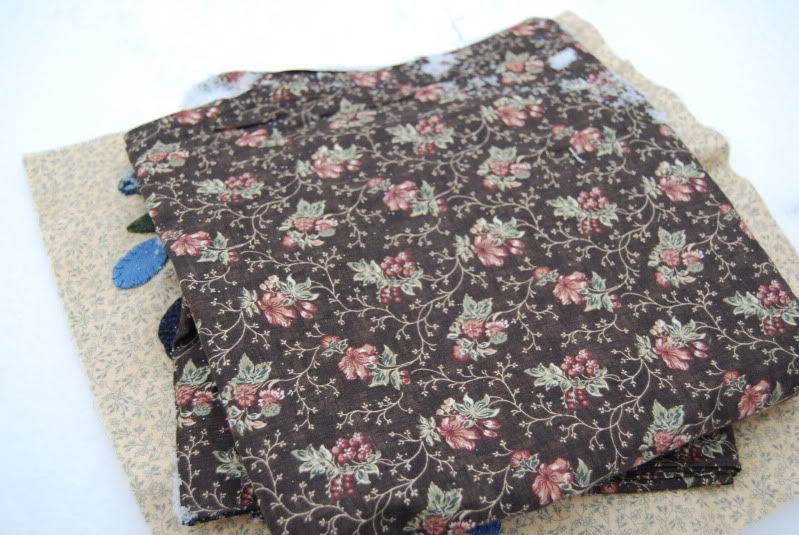 With no blocks with me when I purchased—I'm leaning on Faith that it will look nice. I'm using background fabric scraps for the other half of the triangles.
This project will be put on the back burner because I'm going to start a quilt for Eric. He graduates in May. I want him to have a quilt to mark the occasion. I wrote a friend the other day stating I don't make lists of quilt projects because I start realizing I don't get them all completed. Chelsey's Christmas quilt turned into a birthday quilt. Eric's Christmas quilt will hopefully be there for graduation… He has two close friends that I would like to remember with something…but one project at a time and we'll see how it goes.
Homemade chicken noodle soup is just about ready--- I better close. Have a good week….