"What doesn't break you…. only makes you stronger…" It's written on the gift tag for the bag I'm mailing Chelsey today. It was a request from my daughter. She had seen a
gift bag
I had made earlier and she wanted it twice the size and bought ruffle fabric and a button for me to create it.
I've been trying to get it made since New Year's Day. Well, yesterday afternoon I made it and she'll have it for your trip to visit an Aunt for Spring break. It's not a great picture (taken in a hurry) but you get the idea.
Thank you for your notes and prayers. Some burdens are too heavy to handle alone and I appreciate every one of them. Our family is definitely going through "Character defining moments". Please keep us in your thoughts.
Friday night we went to a dinner theatre to raise money for the Women's Shelter in town. The play was a good Cause and a fun evening for everyone. Saturday night we had supper with Friends. Quiet and Comfortable are the two best words to describe it. One of those nights you have so much fun you want a "do over". She's a new Quilter so it was fun chatting with her. I made a
lunch bag
in about fifteen minutes and brought muffins for dessert. I brought a copy of the free pattern also. It's fun to share.
Saturday for lunch we made a pot of
Italian Potato Soup
. I'm an incredibly picky eater. I think it goes back to the way I grew up. Food was expensive, so eating out and at home—you never wasted it, so I was never very adventuresome. Don and I made this together and it was delicious, I'm totally addicted to it. I'm even bringing to work for lunch today.
This is not an original idea,
but saw it and fell in love with it. I want to get better with the camera and search for items to practice on. So I set up my latest animal feeder off the porch. I don't care if I get pictures of birds, squirrels, or chipmunks.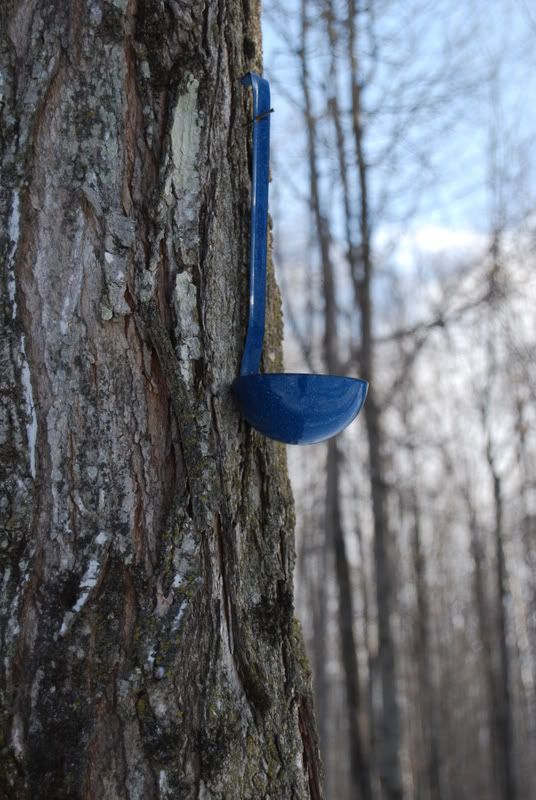 I just love the idea of them perching on a graniteware soup ladle. Now to only catch them in the act….
Time to head off to work. Our days are getting longer; it's almost daylight on clear mornings now. We are officially on the downhill size of winter.
Gratitudes:
Homemade Soup
Crisp clear mornings
I guess times in our lives to see what we're really made of