It's the day before Friday---Hallelujah. I had a meeting at church Tuesday night; a school meeting tonight and Chelsey has an away ball game on Friday. So…I stayed home from church last night just to do some catching up. I made a Wal-mart run, cooked supper, started some laundry…. And I just needed to be in my sewing room.
Chelsey got this magazine in on Monday—I haven't even let her look at it….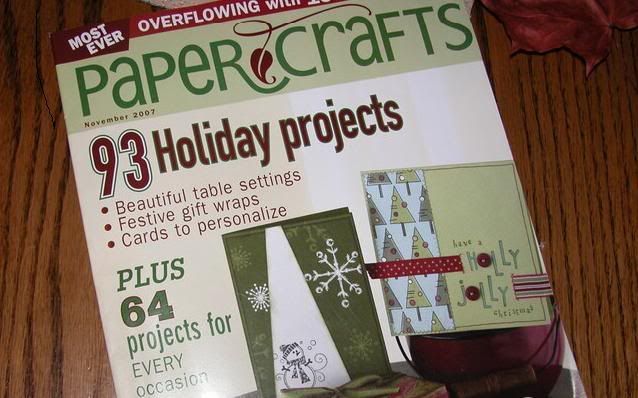 At work, I had this page opened all day to glance at while I was "on hold" on the phone or waiting for the computer to process a transaction.
Yeah, the guys at work were relentless and made fun of me throughout the day.
There was a card out of paper scraps, but they gave kudos to quilters.
Anyway, I went home and made a couple of fabric postcards.
I always say, " I need to send her a note.." but if I don't have the cards ready the moment passes. I still have to appliqué the stem, but I think they're fun. The fabric makes them look like real leaves with different shades of color.
In less than two hours I made two… and the therapy was great. I just used pieces from my scrap basket and tea-dyed muslin on the back. I usually buttonhole stitch around the edges, but with my machine STILL in the shop, this old machine had a turkey tracks stitch and I tried it. These will be off to Wisconsin and Louisiana by the weekend.
Here's one last photo of the leaves.
Ransom and I took this one evening.
Gratitudes:
Purple hull peas for supper (My Dad grew them in La.)
Warm Fall days
A friend's new Grandbaby