If the Hat Fits, A Buggy Barn Quilt is finished.
I still have to quilt it, but I need to piece backing fabric and complete the wool applique. I am going to machine quilt it myself. I have a good friend that whipped this same quilt up and carted it to the long arm quilter. I've seen it—the quilter did a beautiful job. Honestly, I'm completely envious, but I'm battling. There were pumpkins, acorns, leaves, bats…. The free hand motion work was just perfect. I'm not whining—please don't think that. I think the real reason I'm posting about it is to show others out there I have "those" moments just like everyone else. I want THAT quilting--- my machine quilting is pretty much the meandering stitch. I do one heck of a meandering stitch, but that's about it. I'm kicking around stars and a little meandering and maybe some Moons stitched with echoes. The witches are going to have their dresses with details stitched either scallops or stars or even just squiggly lines. The brooms will have zigzags on them. I'm going to give it a shot. I can tell you all the song and dances about "Making it my own", still truthfully I can't justify the bucks for such a short seasonal quilt. It's not even about the funds---the designs are worth every dollar But hey- I'm not throwing in the towel--- I'll let you know how it comes out.
The days are getting shorter.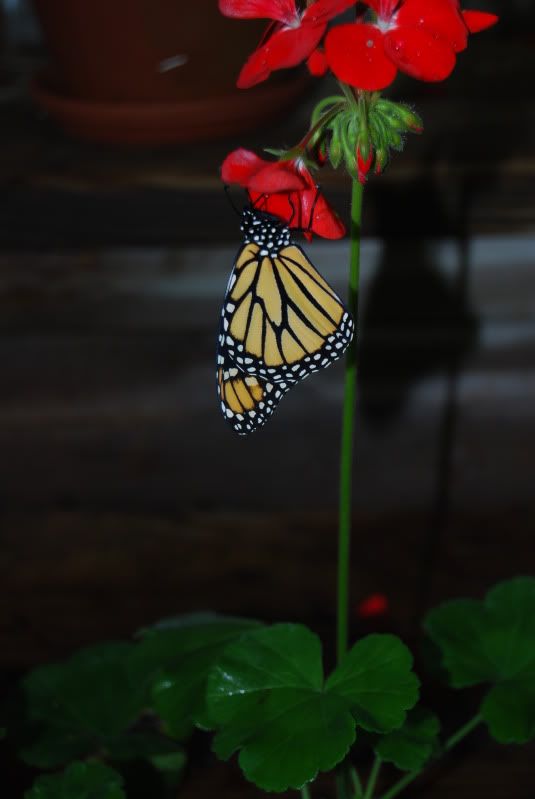 I saw this butterfly---has to be a movie star butterfly because he loved getting his picture taken.
Gratitudes:
Gospel Group last night
Coffee with friends
The Ironing board is empty---All caught up.