We had thunderstorms last evening so the grass got a much needed drink of water. I still had time to play with Ransom and in the garden before it hit. I cooked my first batch of green beans from the garden last night. There's nothing like fresh vegetables.
I'm still working on the Americana project. I'm doing the embroidery work now. Living where I do, if I want my Mom to get a UPS package the same week I mail it, I have to ship it either Monday or Tuesday or it is the following the week before she sees it. So I missed the window this week, so I'm going to keep working on it till next Monday. I'm at that point to where I want to rush to get through it because I want to start something else. But I give myself the talk----enjoy what you're doing, be neat, don't crank it out.---you know the drill.
I have a friend who's Mom passed away about 6 weeks ago. She was in her 90's and a quilter. They were going to take her old stuff to Goodwill, but sent me some boxes first. Much of the fabric was dry-rotted but I have about 3 boxes of stuff I kept.
Look at this box.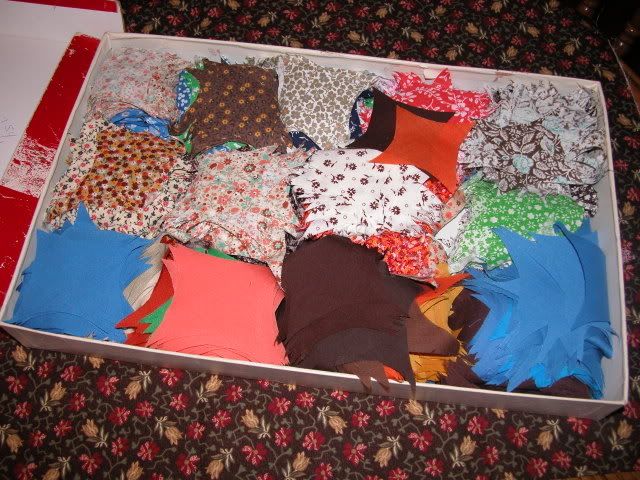 Chelsey and I marvel at it. Hundreds of little pieces she had cut out for a quilt. My money says they were each cut out individually. The curves make you know there was no rotary cutter used. Chelsey says, " Mom you have to put it together," But I still just have more fun looking at the different fabric colors and stacking the pieces in the box. I think it's pretty safe to say that none of the fabric came from a quilt shop. My guess is the fabric all probably cost less than the designer fabrics. But I just love looking at it.
I wonder:
Why she chose those fabric pieces?
Who the quilt would have been for?
Why she didn't finish it?
And in her mind, what do you think she picture it to look like?
Look at the lid –
It looks like they tried to sell it for $2.00 and no one wanted it….
Gratitudes:
1. Vegetables for Supper
2. Money to pre-buy our Propane for winter.
3. Discipline to 'stick to my guns' as a parent