Chelsey got a job….that ought to let you know this has been a great week. It's at a little teeny-bopper dress shop in town. She starts training on Monday. Let's all stand up and do the victory dance. She has way too much time on her hands. I'm really glad for her. I think a lot of growing up has taken place and we've done a lot of talking about responsibility and such. Eric and she are 20 months apart. And I am going to accept blame to the fact that she's always been treated as old as Eric and she's just not. She's always played with the same age toys, read the same level books, etc. She's never had a fair shake at being younger and as these teenage years come into play…let's face it ...she just is. And no matter how liberated we get, boys are different than girls and I can't just assume she knows everything your brother does, it's not fair to her. O.K., now that I said that---who am I trying to convince---you are me???? I just needed to remind myself.
I came home from work and walked Ransom his 2 miles. He kept chasing chipmunks in the woods, so I think he probably got a 5 mile run in. It was spaghetti night at our house. Then I played with my flowers and garden. Eric says he looks out the window and sees me smiling, I must be having fun. Someone at work was talking about the heat and said, "Oh well, in four weeks it'll all be over." My heart dropped. But they're correct. The days are getting shorter. I saw Golden rod on the side of the road this evening. My Mom's 'old Wives' Tale' says the first frost happens six weeks after the Golden Rod Blooms. That puts the date, the first week in September, which is just about right. I love every season, but you know me and change, even good ones…I struggle.
I wanted to talk about quilts, so I went on a mission to find something to talk about. I am still plugging along on the same project. Then I remember…. I have a quilt to show (without fall leaves, pumpkins or Christmas trees..just you wait). .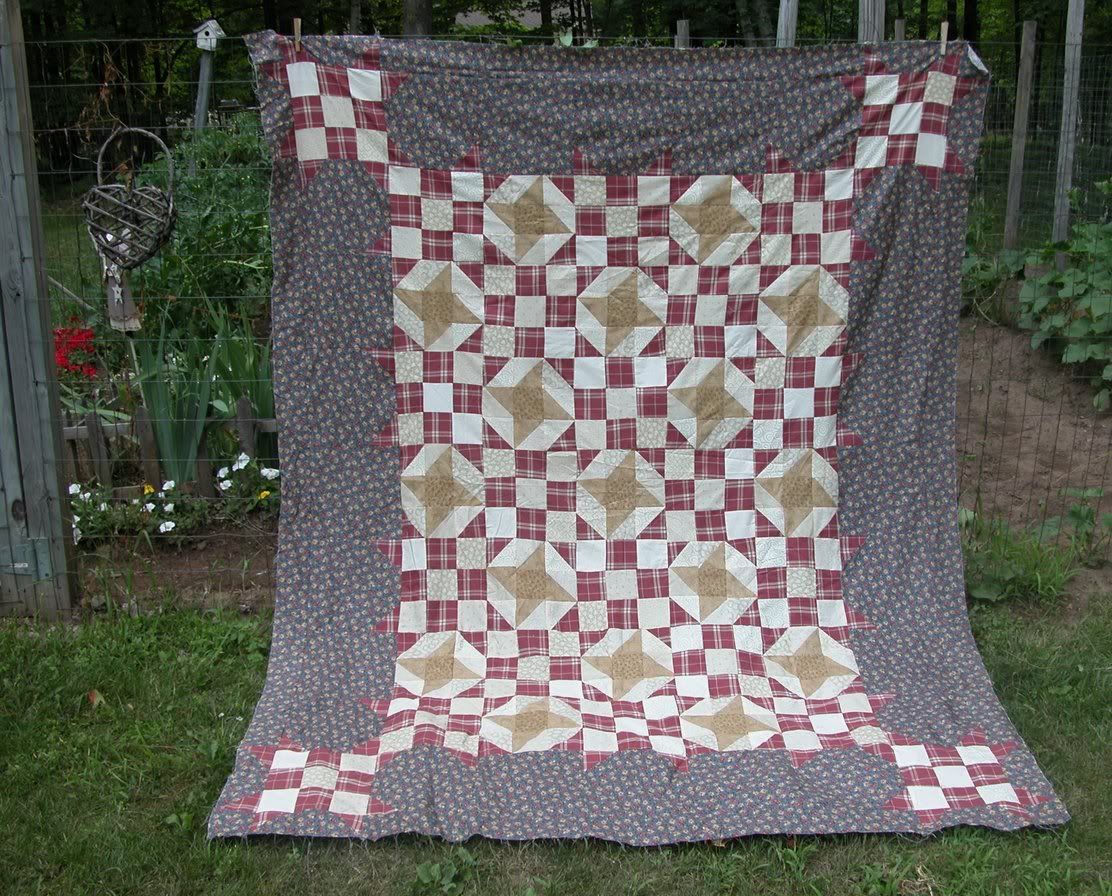 I think this is going to be a great quilt. O.K., give it a chance. It's a Thimbleberries pattern, but it's totally a scrappy stash quilt. You know me and fabric, there's a memory for everything. The red plaid reminds me of old shirts my dad wore when we were little. The blue print was the last piece of fabric that I purchased from the quilt shop in town before it closed. The crème and gold prints are totally stash pieces I pulled together. Don't give up on this....look at the quilt…are there gold stars or red ones? I want to get it machine quilted, I even have the backing fabric. It will bring it out. It's not that I don't have the money for the machine quilting; it just always seems to get tucked away for something else. I'll show it again after it's quilted, you'll see. Can't you just picture it on a table with a vase of Queen Anne's Lace…?
Now, you've witnessed a first hand account of Quilt Ogling (is that a word?). I just wanted you to see things through my eyes….
Gratitudes:
1. Web log friends
2. Garlic Cheese Biscuits
3. Snap beans straight from the garden