Here is my December block for my Hop to it Quilt. It reminds me of Poinsettias. It was a tough block. With the holidays ---I count myself lucky to get it completed. I found clearance fabric to use on the borders. I can't wait to get them started. We have two more blocks in this BOM project with
Mary
and
Sue
. I have gotten tons better at appliqué working through it. I have grown at choosing my own fabrics and colors. The biggest bonus is the friendship I have built with two great quilters.
I completed the binding on a piece last night. I have a quilt on my frame. I have blocks on the side of my sewing machine. So whether it's handwork, piecing, or machine quilting, I'm set. With family close by for the holidays, I have done very little quilting. There will always be quilting--- having family close is a luxury.
We played this game with family over the Holidays. The more people the better--- I highly recommend it for laughter....
My Mom and Mother-in-law hooked with special quilting stuff for Christmas. I want to make every project in this book.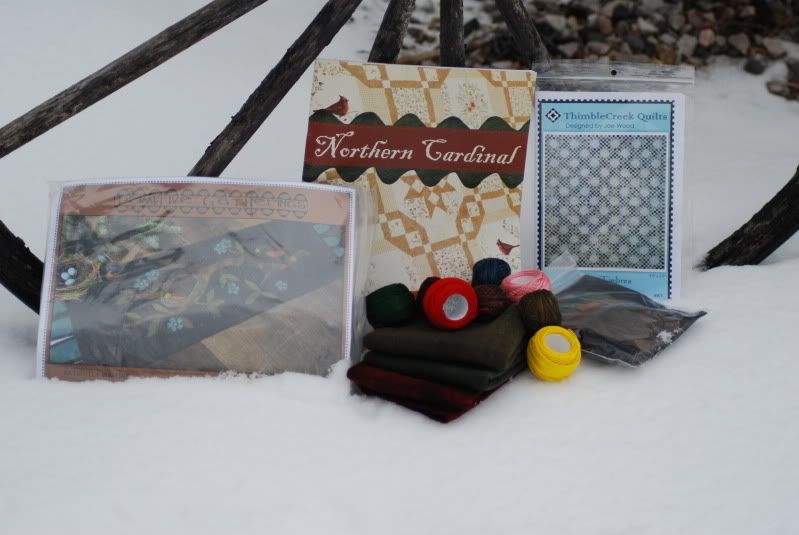 The tree is coming down today. We have an evening with friends planned for tonight, but I guarantee we will be home before midnight. In my book---there's nothing better than being home at the stroke of midnight at the beginning of a brand new year.
We're getting all settled in for winter--- but remembering we are gaining about one minute of daylight a day at this point in the season. Soups for supper, Mittens in your coat pockets, that blanket and flashlight stashed in the Jeep for emergencies (a couple of quilt patterns in your purse in case you get held up somewhere). Life is about living—it's what you make it. Not everyone lives in sunny 70 degree weather… but that doesn't mean you stop living.
Resolutions for the new year--- Keeping it simple. Hoping for Lifestyle changes, not trendy ones. Daily exercise, eating balanced, reading more—less computer time and television, and of course Quilting….
Here's hoping everyone in the New year can find ways to be grateful in all things…..
Happy New Year---From My Covered Porch…..