I couldn't wait to post tonight. I've taken a week's worth of pictures to talk about. I've enjoyed reading everyone's posts. Don will walk into the kitchen and be amazed, I'm writing to people I don't know. I just look at him…'You have no idea…'
I finally did it. I made my first 10 mile bike ride with Don in years. .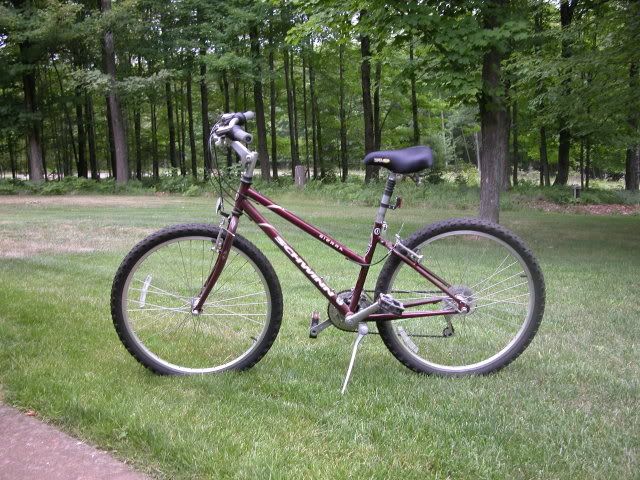 I've been working up to it. Saturday I rode 5 miles took a 10 minute break and rode 5 miles home. Today Don and I tackled 11 miles non stop before it rained. I feel great. I used to ride with Don all the time. Then you have kids and we still rode some with them, but you worry about them getting hurt and someone is slower than someone else, and someone's legs hurt…You get the idea. Well, back in March on my birthday, I go for my annual checkup. It's religious with me. If I go the same time every year I don't forget. Nothing is ever wrong. I have too many people counting on me so I do it. Well, in that one week, I failed a mammogram; they found a 2 ½ inch tumor on my thyroid and needed to biopsy my female organs. Great. Even the doctor says," Mel, you were doing great until you saw me!!!' The long and short of it, The mammogram was a false alarm, the biopsies came back negative, But I had to have half of my thyroid taken out. It wasn't cancer…so I dodged a bullet.
I've just been kind of scared to do anything. There was always some reason I wouldn't. Finally my son Eric says Mom, you don't need to let your body go down hill because of this scare. You have got to get past this. So I started back working at it. I didn't want to hold Don back by not being able to keep up. But this weekend he was so supportive. And I feel great.
.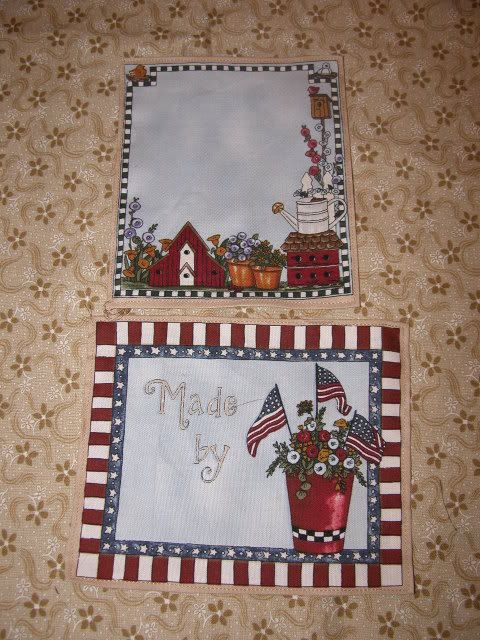 On the quilting front, I have the labels done for the 2 Americana projects for the kid's teacher and my Mom. I'm going to be real detailed like
ForestJane
recommended with dates, Names, towns, pattern name and reason for making the gift along with who the gift is for. I know I have broken about every 'internet rule' I have set for my kids, but I'm still not comfortable with spelling it all out there in black and white on line.
I sewed the binding on the projects but I was tired when I did it and consequently I missed three spots. So that means unsewing and re sewing to get it right. But after that bike ride, I feel like I can do anything…
Until tomorrow – Live up today
Gratitudes:
1. Popcorn
2. Bicycles
3. Rain this evening (boy do we need it!)