Saturday morning, everyone is still sleeping but Ransom and me. Kinda nice.
Chelsey had friends over (guys and girls) for a tie dying party last night. Here are the results. They had fun. There are a lot of bad choices out there for teenagers to make, so I never squabble when she wants friends at home. At 16, you know where they are, who they are with and what they are doing.
What am I going to do today? Don and Chelsey did most of the housework. They just left me a little to do, so I'm going to knock that out. I'm going out to play in the garden before it gets too warm. If thunderstorms hold out, we're planning on rafting the Pine River. It's a lazy river that has a horseshoe bend in it. We throw in inner tubes (like for tires) and a cooler and relax for a couple of hours. It's slow moving and not deep. We've seen ducks, a bear, beaver, and fish. It's a lot of fun.
I change the quilts around.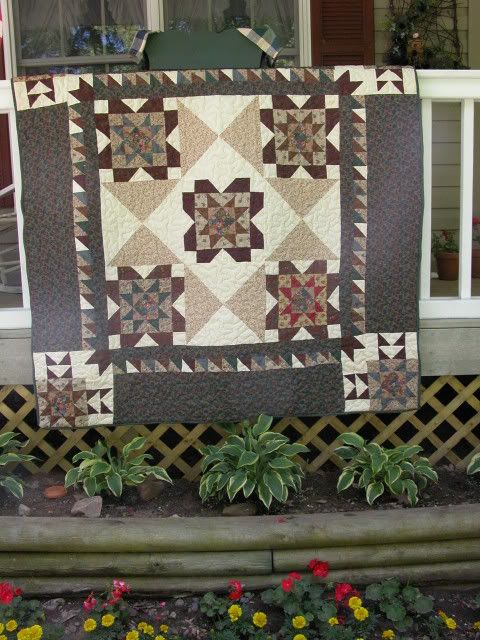 Here's my cottage flower quilt. It's got the flying geese blocks I love. It looks O.K., but I like the way it drapes on a table. Usually after I make a quilt, I have to put it away for a couple of weeks. I never like it after it's done. But a couple of weeks later, I guess I've taken a break from it, I pull it out and we're best friends again.
Eric will be home in eleven days (not that I'm counting). He's going to college eight hours away, I better get used to this.
Until tomorrow--- live up today—
Gratitudes:
1. Summer days
2. housework help from the family (it lets me have more of a weekend)
3. French Vanilla Cream