The Calico Cat asked for an Apple Nut Cake recipe. So, to go with the recipe is the apple basket table runner.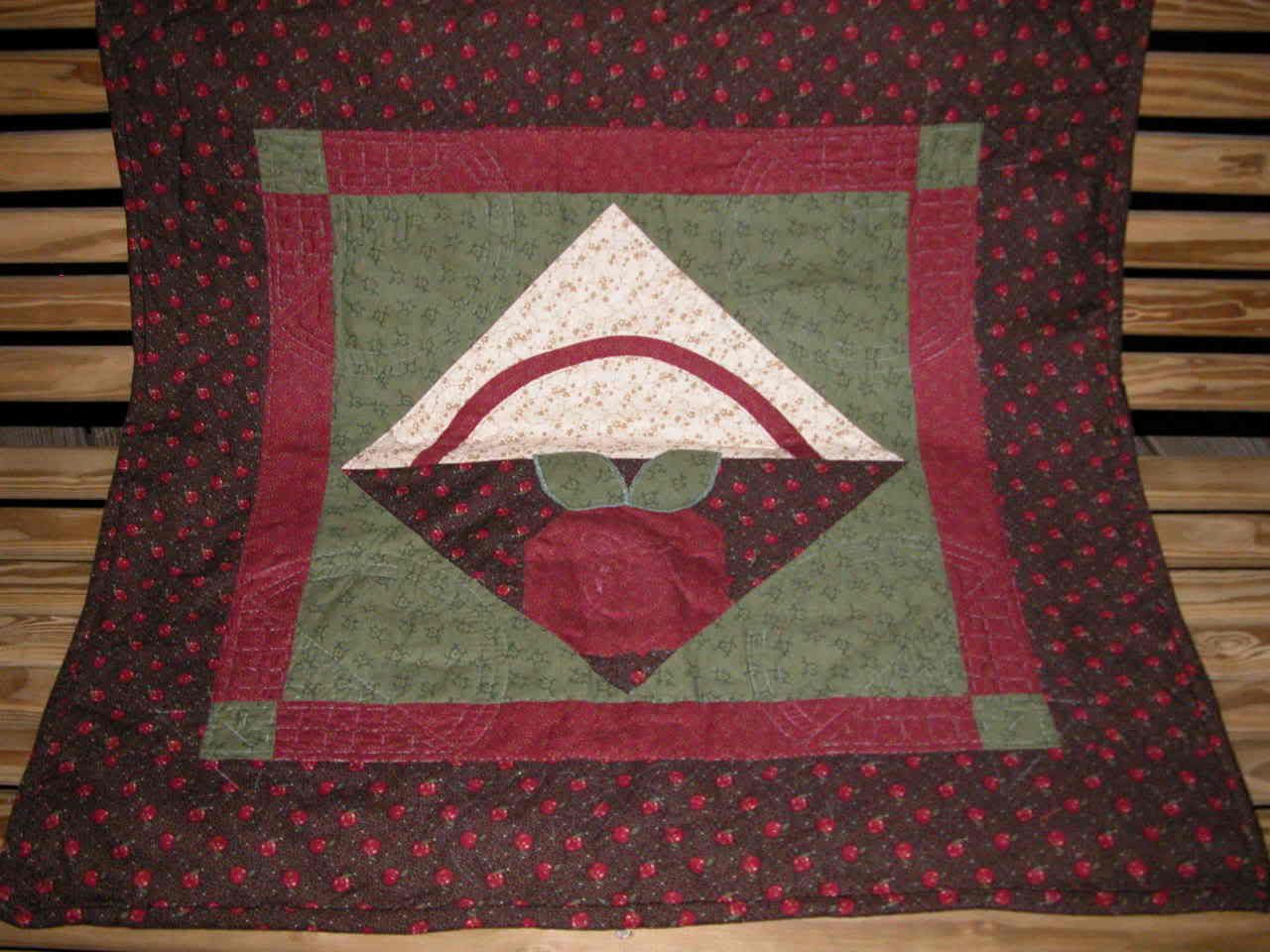 I tried hand quilting it with lighter thread hoping to make it stand out more. There's something about fabric with apples on it. Reminds me of when I was a little girl. My Mom and I would go to the store and draw pictures of the dresses and come home and she would make them for me--- remember "Buffy" Dresses. Buffy was the little girl on the TV show Family Affair. As an adult, I now realize how tight money really was, but as a kid, I never knew. Mom and Dad never discussed or complained about it around me.
Now in today's world, I don't have a problem with telling my kids when things are too expensive. I'll tell them in a heart beat to get creative, there has to be a better purchase out there. Or maybe it's an opportunity to save up. Sometimes it's "O.K. I'll spend this much… if you really want it - you pay the rest. "It's amazing when kids spend their own money how careful they monitor it.
Back to the recipe. It's totally not cholesterol free, fat free, or sugar free, but I can tell you this – It is delicious.
Apple Nut Cake
3 cups chopped apples
1 cup chopped nuts (walnuts or pecans)
1 ¼ cup vegetable oil
1 teaspoon vanilla
2 cups white sugar
2 or 3 eggs depending on size
2 ½ teaspoon cinnamon
¼ teaspoon salt
2 ½ cup self-rising flour
Beat eggs. Add sugar and oil. Add vanilla and spices. Add apples and nuts. And flour 1 cup and a time. Mix well. Place in a greased and floured bundt pan. Bake at 325 degrees for 1 hour 15 minutes.
The kind of apples doesn't really matter. We have apples growing wild in the U.P. so it's always fun to use them. This is a cake that gets even better after it's a day or two old. I usually use pecans because I get them free – my Dad in Louisiana has pecan trees filled every year. – I figure you La. Girls out there can relate.
Thanks for asking about the recipe – It's always fun to share.
Until tomorrow – live up today