I've finished a table runner this weekend. I just have to get pictures taken. So I have gotten some sewing completed. I've really been working on getting my Sunday school class set up for the next quarter.
This is a quilt block made by my grandmother.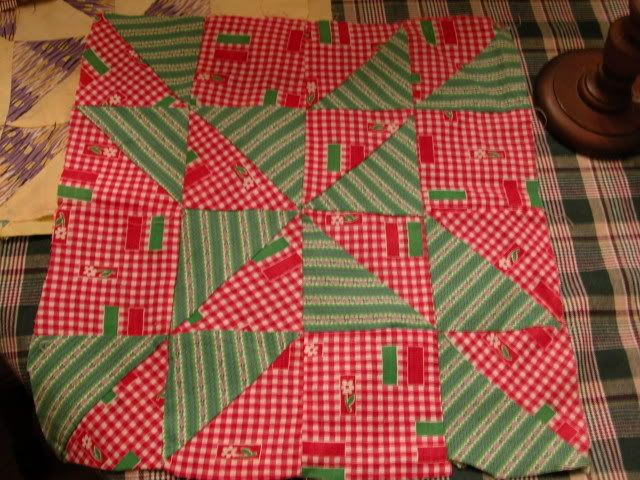 I have no idea the name of the block, It took me a second to even see a pattern in the blocks. I tried to take pictures of the hand-piecing on the backside, but I not real good with a camera. I have about 20 blocks that were in her sewing box given to me 18 years ago. I thought about completing the quilt but decided to treasure the blocks instead, maybe framing a couple of them one day.
You can see a book on a stand in the picture. My Mom and I collect
Gooseberry Patch Cookbooks
. They have great stories as well as recipes. The artwork in the books are pretty enough for display. I have a wooden recipe holder and I change it monthly with the seasonal cookbooks.
School starts the day after Labor Day for Chelsey. I'm ready to get back to a routine.
My Mother-in-law's birthday is Monday, so I have to get her a present and get it mailed today. I made her the table runner, but I gave it to her early, but well, she doesn't have people looking out for her that much, so I think more presents are in order.
Gratitudes:
1. Crayons for my Sunday School Kids
2. An Evening walk with Don when I know he was too tired to go.
3. Broccoli out of the garden