I'm back on-line!!!! I haven't quilted in over a week, but I feel like I have because I've been reading your stories. Everyone has been so busy.
I got Eric to school. I think he's doing great. It's been an adjustment at home. Chelsey says she thought when Eric went off to school, he'd be gone. But the way her Dad worries about him it's like he's still here… I just laugh.
Work has been incredibly busy--Computer crash issues, and catching up on work you missed. I took a day off to get Chelsey set up with school clothes and a Homecoming dance dress.
It's my last Sunday with my SS kids. They will promote to a new class and I'll get a new crop. Every year, I think .."I'll never get a group of kids this great.." But I always do. Change is never easy for me, even good ones.
I'm getting the chores done so I can play in my sewing room (Doesn't look like I'm doing much of that right now!).
On a quilty subject, Bonnie showed some toys and I wanted to share mine. This is a bear I made from one of my Grandmothers old quilts.
It was moth eaten beyond belief. I really had to piece together to get enough blocks to complete the Bear. I even made my Mom the brother bear to it so she would also have it to remember my Grandmother's quilts. I should have taken a picture of the two together.
I made my son one when he was little out of a pair of Don's old jeans. It stayed in his room until he went off to school.
I even put the Levis tag on the back. I don't know if he thinks it's "dorky" or not, but I think about how great it would be to have a Teddy Bear from my Grandpa, or even Great-Grandpa. Tradition has to start somewhere. And call me cynical, but I just don't think the tradition and memories are going to come from the passing down of video games…. One day he'll understand.
The last is a muslin floppy eared bunny I made.
Still sits in my kid's child size rocking chair in the den. No eyes or mouth embroidered, but I'm confident he's the wisest of rabbits. Think about it, he knows the things to overlook and the things better left unsaid…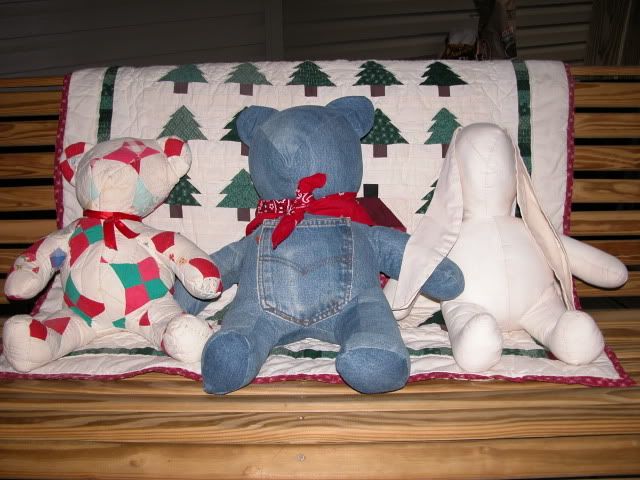 Gratitudes:
1. Don pushing me to work out for my health.
2. Phone calls from Eric
3. Rainy Saturday to catch up inside
4. My digital camera