When you show photos of a mess, I guess you see the real person. I started reorganizing my stash of fabrics. It was a lot neater on the shelf, but you know how you pull one fabric and three others come out to, well I decided to start from scratch. These are the before pictures. You bet I'll post the 'after' ones too.
I have to get busy with it because Chelsey has been at Cheerleader Camp since Sunday and she'll be home tonight and we share the sewing/scrapbooking room. I'm ready for her to come home. The camp the girls went to was seven hours away. Yeah, we got a call Sunday evening, the first day; they had to ambulance her to a hospital. They were stunting and a girl fell on her and knocked her out. Just what every Mom wants to hear. After x-rays and CT scans they say she's OK, but I've been uneasy for 3 days. I'll just be glad to get her home. I don't want to be one of those Moms that lock them up, but it's hard letting them have a life. I guess they could get hurt in the front yard…but heck….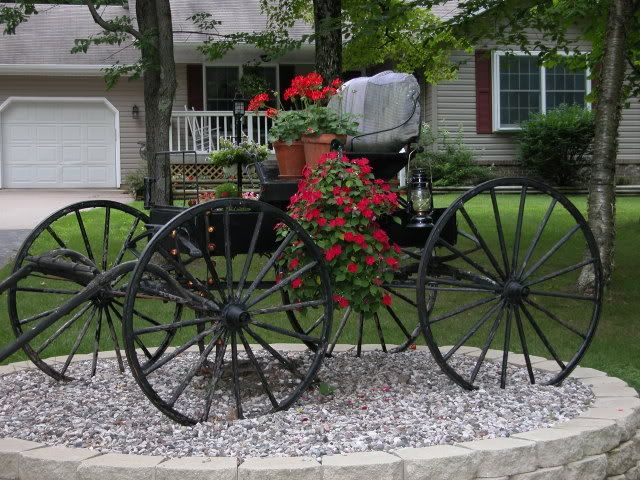 I've showed you my buggy in the front yard, but I want to show it with all of the summer flowers. I've never had flowers this late in the season. We have deer running wild. No kidding, there were eight that I saw on the way to work. No, we're not talking a herd of eight. We're talking 8 separate sightings of does. About this time of the year they start getting real aggressive with their eating--- stocking up for winter. I've taken real good care of the flowers this year and kept them cover in this stuff called "Liquid Fence". I swear by it. And the deer, at least so far, don't like it.
I better get busy—
Until tomorrow, live up today.
Gratitudes:
1. Don & Eric toting 2 tons of pellets to the basement for winter.
2. Queen Anne's Lace decorating the roadside.
3. Mail – the old=fashioned way from my Mom.