It's Tuesday –I'm glad. Monday wasn't a great day at work or at home. I got Don's work schedule confused and had dinner ready an hour and a half before he got home, not to mention the frantic pace I was working at to get everything done that he doesn't like doing Before he got home. Oh well. When he was 45 minutes late, I got worried that something had happened to him. Moral of the story: better communication.
I haven't showed you this quilt. It's called 'A Cabin in the Woods'.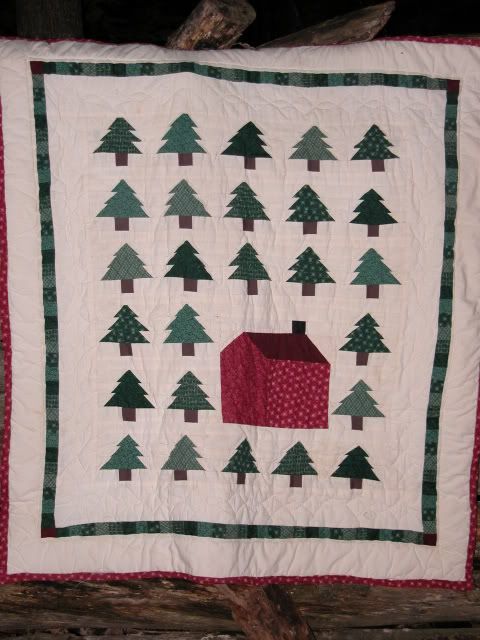 I don't know who it's by, but it was on the cover of a magazine at my mother in laws about 12 years ago, and she let me have the magazine and I ordered the pattern. I used muslin that was dyed in tea and strong coffee. The rest of the fabric pieces were scraps. I know that because I had never been to a quilt shop.
I've always had a thing for house blocks. Don and I used to talk about having a "cabin" somewhere for weekends. We talked about saving and getting this "place" pictured in the quilt. But money was tight enough with one place and we realized we lived in the woods anyway; there was just no lake. We added our Covered Porch and made our home our Cabin in the woods…..
Until tomorrow---
Gratitudes:
1. Eric likes his classes
2. Apple Trees
3. Acorns falling
4. Getting the right attitude about a lot of things.