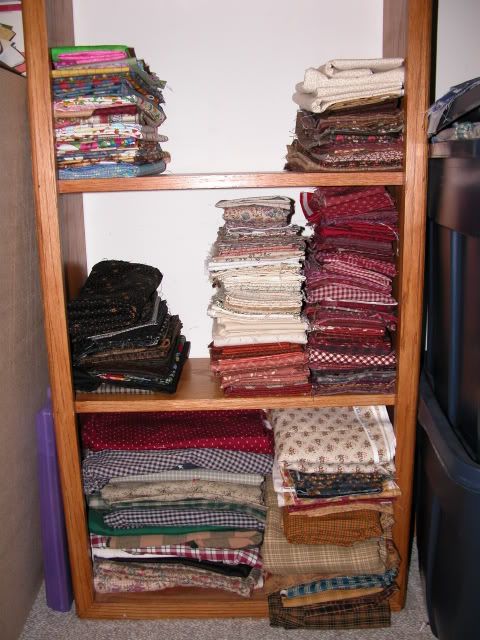 No quilting this weekend, but here are pictures to show the honest effort at getting my stash of fabrics organized. I've got the blues (and not just a feeling about this project) and the gold fabrics left to fold. The bottom shelf holds my yardage pieces. I'll tell you this, it's a lot more fun to buy it and put it away the first time.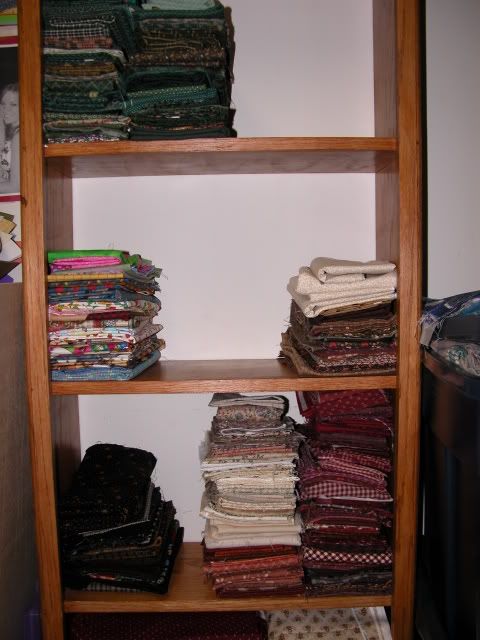 But I did find pieces that I remember falling in love with the first time---I'm pretty psyched to get back to quilting.
I used to work at a place years ago that had hydrangeas framing the building. I would dry the flowers for fall arrangements. I bought a hydrangea bush about 6 years ago. Not one flower has ever bloomed. Either the deer got it or I decided it was one of those Male/female things and I needed another bush. But At $20.00 a pop, I decided it was a nice green bush. Well lo and behold,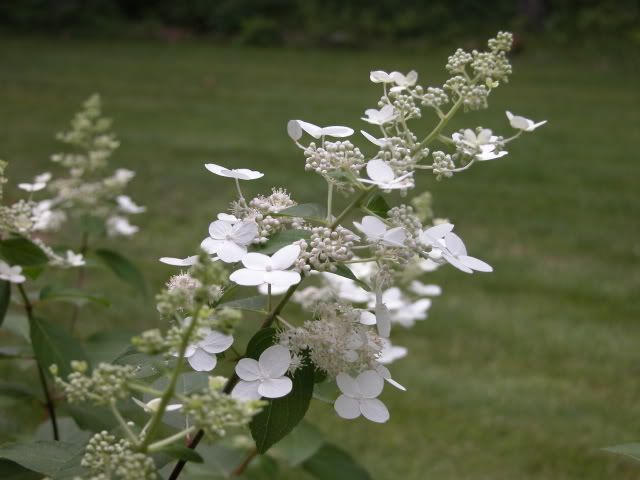 look what's blooming this year. I'm just captivated. There's not a day goes by that I'm not amazed….I guess I'm easily thrilled.
I did lots of playing in the garden. We're getting cucumbers and tomatoes now. My gourds are really coming on too.
I shopped for Eric's college dorm room stuff. This is his last week at home. We'll get him settled in this coming weekend. He's ready…I just hope I am.
Don and I logged over 20 miles on the bicycles this weekend. He took me along all the back roads in the woods. There were lots of cottages, hunting camps and I told him how I would decorate every one of them if they were mine. I would look at a place and tell him if the owners loved it or not. I told him where the swing should be and of course there have to be quilts and cool mailboxes… He says I'm all about emotion and passion…. I told him he was lucky…
Gratitudes:
1. Eight kids in Sunday school and the Mom that donated school supplies.
2. A job that makes it a lot easier to get the things Eric wants/needs for school away from home.
3. Beans, Corn and Cornbread with Sunday night's supper.
4. A daughter that keeps encouraging me to sew.