There's no place like home--- even with twelve inches of snow on the ground. I made it home missing two separate snowstorms. I got to Louisiana about 9:00 pm last Wednesday. By the time we got my luggage it was ten o'clock when we made it to the doorstep of my folks home. There was gumbo waiting on the stove. With strict orders from my Mom not to eat 'airport' food, I settled in to being spoiled by my Mom--- when the entire intent of the trip was to look after them. I felt pretty guilty Saturday shopping comfortably in 80-degree weather while Don and the kids were battling blizzards. My folks are doing great. We decorated my Mom's tree and got most of her shopping done. We baked together and read cookbooks cover to cover. She's a neat lady. Dad and I watch football every time we could find a game on. I was ready to come home, but I'd like to visit them again in about 3 weeks. I'll see them in May when they come up for Chelsey's graduation. There's always way too much time between visits.
My Mom took me to a great quilt shop, Priscilla's Quilts. We pinched on everything in the shop. I had always wanted an Australian quilt magazine. So, that along with four fat quarters that were calling my name came home with me.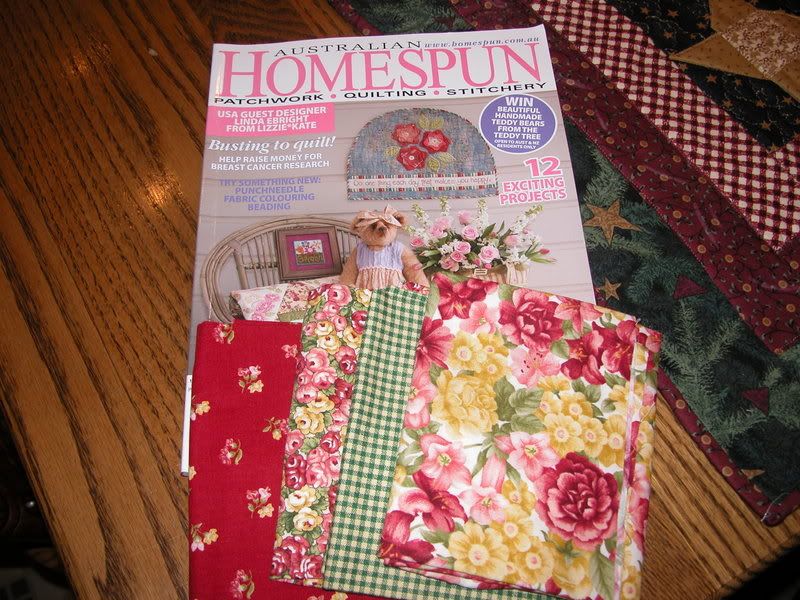 There were several magazines to pick from. I chose this one because of the quilt of the front that said, "Do one thing each day that makes you happy." Definitely got to incorporate that into a quilt.
Quilting—I had some really long layovers coming and going on the trip so I packed up the Primitive garden blocks and took a chance. I brought fingernail clippers to cut threads. I walked up to the check-in desk and was totally honest- "Guys, I'm a Quilter and I've got long layovers, May I bring a needle on the plane to quilt with?" They asked, "Knitting Needles?" My response, "No, an inch long sewing needle." They smiled and said, "sure, no problem." Well… I appliquéd up a storm, completed one block and halfway completing another. I didn't have time to cut out tiny flower petals, but I got every piece I brought appliquéd into place. I'll have pictures real soon.
I've spent the last few days, unpacking and catching up at work. Everyone has been great. If everything was perfect while I was gone--- they wouldn't need me, so there were a few bumps, but nothing we couldn't handle. Ransom survived, sleeping on the floor by my bed the night I got home. Don and Chelsey did great.
Gratitudes:
Safety while traveling
Having people miss me—it's a great feeling
Snow—the Christmas season has come to the U.P.