I'm typing to Christmas music and the quiet hum of the dishwasher. Christmas lunch is complete. The presents have all been opened. I even have new quilt fabric sitting next to me. Definitely a wonderful Christmas.
Last night we were talking about the Christmas meal. I announced that I thought I'd make place cards to match the dinner dishes. Chelsey first laughed, " Mom, don't be a dork--- there's only four of us." Then my darling 19 year old chimed in, " Well, Chels, we might not know which chair we sit in, so we may need them." Yeah, OK, I laughed too. Then I laid in bed last night thinking of holidays and traditions of past Christmases. And I decided that
dorky
is exactly how I want to be remembered, so I got up early this morning and made everyone a place card attached to a candy cane.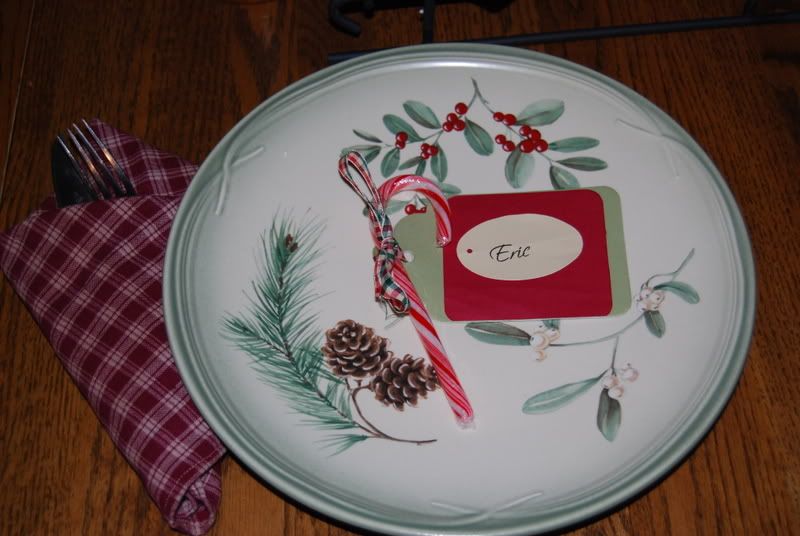 And switched everyone normal seating at the table. If anything it made conversations of "I like your chair better", "Wow, you can see out the window while you eat." I think I do it every year from now on…..
Ransom got his share of gifts. Here he is in his Christmas outfit.
I live 1200 miles away from relatives, but our Christmas was special just the four of us.
And I never felt closer to distant relatives—they've called and emailed us throughout the holidays. Holidays are what you make them. Stressful, sad, peaceful, fun, memorable….. you don't always control the cards your dealt, but how you play them … makes the difference…..
I hope everyone's Christmas lasts longer than just today……