It's Friday – and I hit another deer on the way to work. This one tore the bumper apart and ruined the fog lights. That's why you have insurance. I'm trying not to dwell on the fact of how much quilt fabric could have been purchased with the deductible. I'm a deer magnet, what can I say….
Quilting gifts that went out the door yesterday. Here's the first, a journal and book.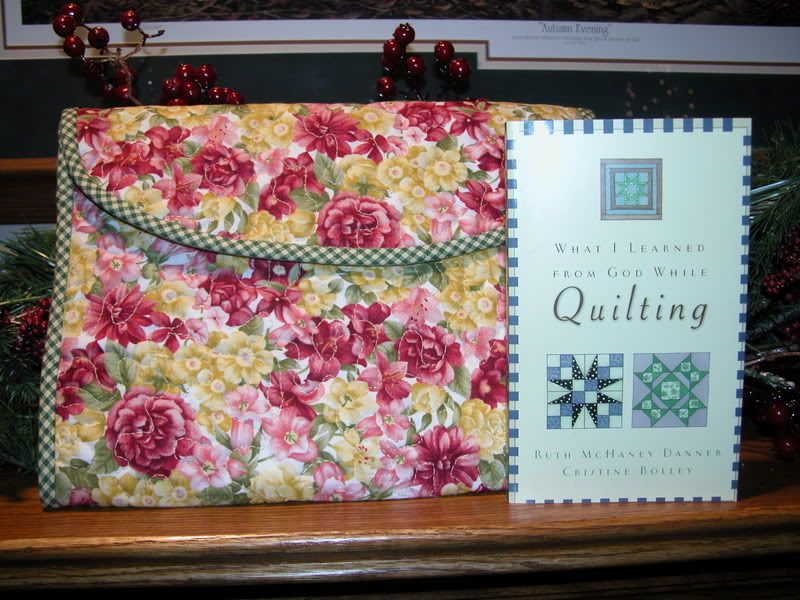 I also threw in an extra sewing machine foot that I had for free motion quilting. Lord knows, I'm not a pro with it, maybe she could put it to good use.
The 2nd gift was a gift bag filled with ribbon spools and pecans for a girl at work. When things go bad at work, she's been there to talk to.
But she's understanding and a great sounding board. It wouldn't be Christmas without remembering her.
Chelsey got Saturday school which 5 hours on a Saturday in a classroom for studying. That's a lot better than a suspension. I hope she's learned a big lesson from all of this.
Game plan for the weekend—my office party tonight. It should be fun. Then four days off of work. I plan on sleeping late, watching old movies, baking goodies, and listening to tons of Christmas music. We got a snow storm forecasted for Saturday night/ Sunday--- bring it on---I'll have everyone tucked in at home.
Lots of tension at home. I don't know if it's holiday pressure, the weather, Illnesses going around or what. I'm hoping the next few days allows everyone to slow down and have some "by them-self time" and some family time too. I think it will fix everyone's feelings…I've never considered us a really "sensitive" family, but we all seem to be wearing our feelings on our shoulders.