Work's been tough this week. I haven't been working late, but I do come home beat. We're enjoying having Eric home. I realize that life is different when he's home versus when he's not.
I went down this morning before work and had my coffee in my sewing room. I really didn't have time to sew a stitch, but it was great therapy. Anybody else would think I was crazy, but quilters do understand. Just looking at thread, playing with the needles, or folding the fabric can be a great attitude adjustment.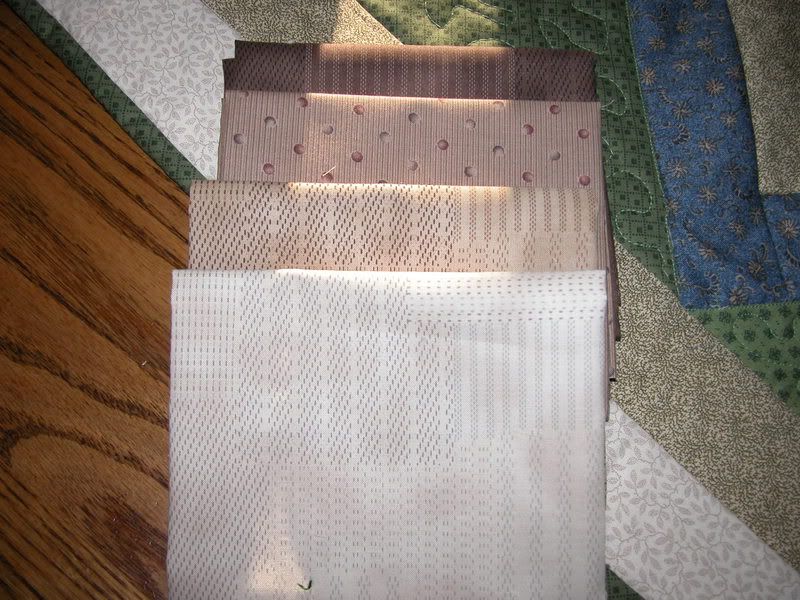 Here are fabric pieces from a friend. I'm going to add them to something and I'll always remember where they come from.
You've got to remember there's no quilt shop in our town so I always pick up the Quilt Sampler when it comes out.
I tell Don about the towns these quilt shops are in. We plan how we're going to have an old Victorian house with a winding drive way lined with Maple trees. He'll repair something like ---lawnmowers and I'll work 2 days a week at a variety store. We'll have all the money in the world to pay the bills and live happily ever after--- in the same town as the quilt store. Then we just laugh. It's fun to pretend.
It's Pizza Night at our house……no cooking.
Gratitudes:
1. My Sister-in-Law
2. Vanilla Crème in my Coffee
3. Finding My checkbook—it was in my purse the entire time…..