The weekend is over, well almost. We call it 'Graveyard Blues'---the feeling you get when you're about to go back to work and you're just not ready to. It comes from years of Don working shift work and working the 'Graveyard Shift' 10:00 pm to 6:00am. I'm really glad he works straight day shift now.
Eric's home for Spring break, an entire week. The weather cooperated and he had a safe trip. I played with one of my Christmas gifts for the first time this weekend--- My snow shoes.
I really wanted them, but until this week we hadn't had enough snow to even use them. So Sunday, I decided … this is it Ransom and I are going Snow Shoeing. It was then that I realized… how much fun can this be alone? Don hates the cold, and made no bones about it… I was on my own for this. But he helped fit them for me. I brought my cell phone because reality was catching up to me… and I finally told him out loud… "What if I get lost?" He kind of grinned and said…"Just take your tracks in reverse..." I wasn't giving up and so Ransom and I took off behind the house. I had so much fun. I wished I had brought my camera. It's totally amazing to see the drifts of snow with no foot prints. I can't wait until tomorrow…. And Don even called me about 10 minutes out.
I changed all the bulletin boards in my Sunday school class. We had 10 kids this week. It was the story of Baby Moses. Four year olds love that story.
On the quilting front I completed one block of my Primitive Garden and now I'm onto the next block—A Pot of Geraniums.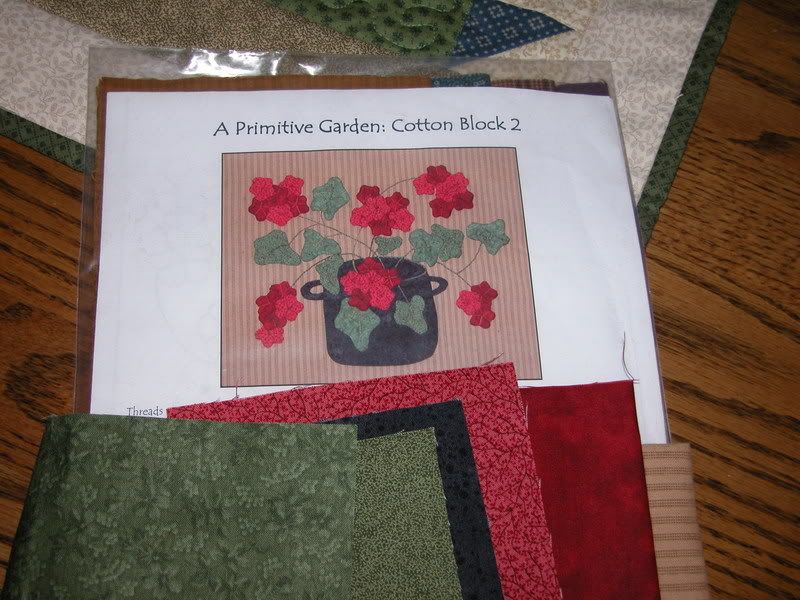 I went down to my sewing room, but opted to come back up and sew by the sunny window instead.
I had a three day weekend complete with a nap every day—yes—I'm bragging. I hope this week is even half as great as the weekend was.
Gratitudes:
1. Sunny days with snowy backgrounds.
2. Chicken Alfredo—definitely.
3. three day weekends