The temperatures and our spirits are both up in the U.P., after work, I ran Ransom 2 miles and hit the tread mill for another. Don's been in meetings all day, and has another dinner meeting tonight. Sooo, it's Taco night at our house just Chels and I. We make them together and she practically bathes in them as she eats. I always remind her--- this is NOT a date food for her… the guy would run for his life!!!!
Here's my quilt picture for today.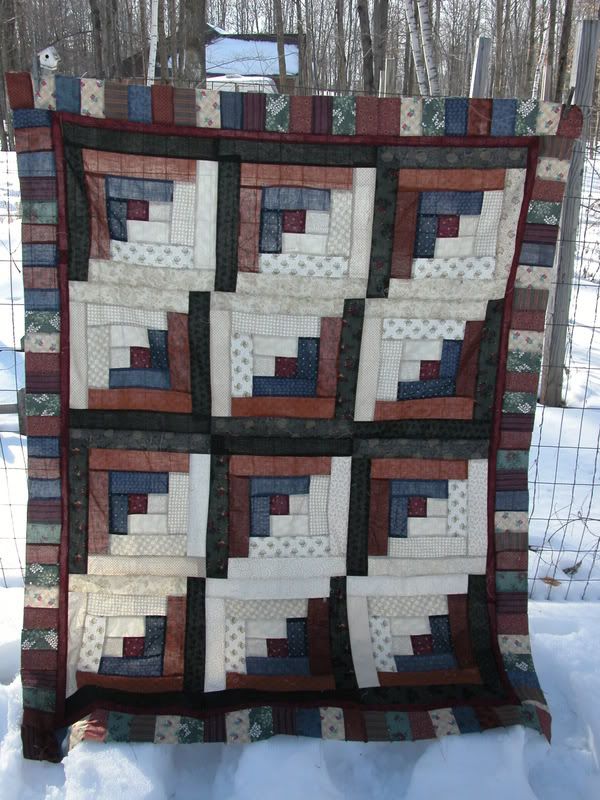 Chelsey is going to Mexico with her Spanish language class this summer. A few weeks ago she says, "Mom, you know I'm going to be hurt if I don't get a Spanish Quilt to bring my tour family like you made Eric for his French family…" I had already kind of thought about it, but thought maybe she wouldn't bring it up. But fair is fair, so I had extra blocks left over from the French quilt and look what I pulled together on Sunday. I went to my stash and literally pulled out the "lonely" fat quarters (you know, the not so pretty ones that usually get thrown in as an extra in a fat quarter pack). We won't call them ugly because I don't think any one would create ugly fabric on purpose. I even pulled colors that weren't in the main part of the quilt—totally fun. I sewed it all together and when Chelsey got home from work, I showed her. Her first comment was-'Wow, I love the borders!". So the next step is to baste and machine quilt it.
OK—on a growth moment—look back to my June 7th post and the French quilt.
While every quilt is special…I think I've learned so much from others over the past year, kind of interesting…
Gratitudes:
1. Warmer Temps
2. Baby Pink sweaters
3. More Daylight hours