The week is just getting away. We went to Green Bay/Appleton last weekend. We purchased the new faucet for the bathroom makeover. I got a birthday outfit and this quilt fabric. I have no clue what I'm going to make.
I just knew it looked like spring and was destined to come home with me.
I love the time change and we're getting just about 12 hours of daylight a day. Chelsey had a field trip yesterday so she left for school at a quarter to six. I finished getting ready and was about to put Ransom out. It was dark and 12 degrees—he looked at me like I was crazy, so I just left him inside. Hey, I wouldn't want to go out then either. By the time I got home I was beat and while it's warmer (30's), the wind is up. I did some laundry, cooked supper, started the pellet stove; I clearly wasn't taking Ransom for a run. I got the kitchen cleaned up and went downstairs. I stitched up beanbags for my kids to make in Sunday school this week.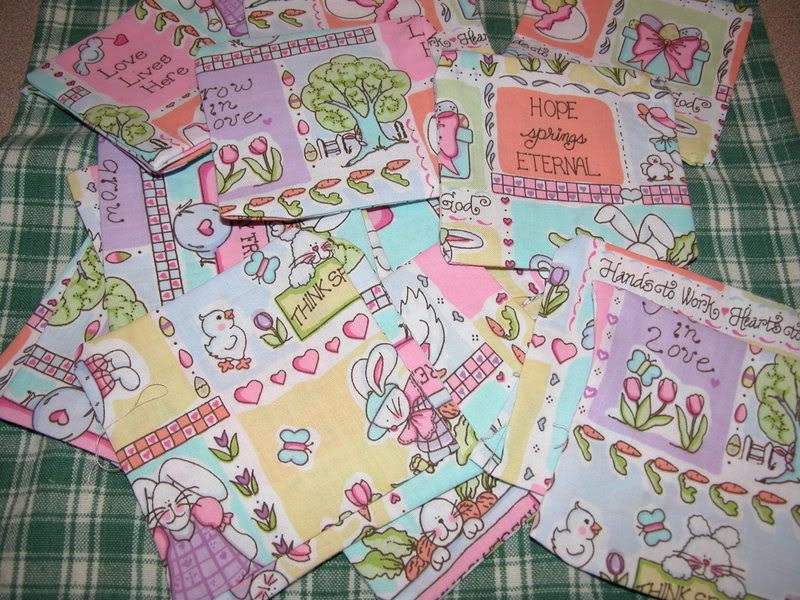 I press my luck with my Sunday school helpers about once a year and they get to finish hand-stitching them while I tell the bible story. Chelsey's real good about coming and helping too. Ransom sat at my feet the entire time. I looked at the clock—6:30 pm. "Come on Ransom…it's still daylight, let's go for a run…" It had already dropped below freezing. The ground was hard… But I can still tell spring is just around the corner…and the fresh air does everything good…
Gratitudes:
1. The wind drying up the snow.
2. New socks
3. Don's Pep talk with Chelsey