Here's my birthday gift from Eric. It's an Ellison Die.
When I had my kids I made the choice to give up my job and be a "stay-at home" Mom. I had a couple of part time jobs and volunteered a lot at school. One of the perks was I got to use the school's Ellison Machine which is like a fancy cookie cutter press for paper. I used it to work with my Sunday school class for cards, crafts and bulletin boards. I got an opportunity to go back to work fulltime, which had always been the game plan for our family. It's not that we needed the money so much then; it's just that I needed to get my skills back up to par so that when the kids went off to college--- when we would really need the money--- I could contribute. It was tough going back to work ---at getting the routine down and plus the emotional rollercoaster Moms go through. So Don bought me an Ellison Machine to ease the tears. Working fulltime, the school was closed by the time I had a chance to use theirs. And for a year, instead of flowers for Mother's day, I got the tulip Ellison Die, for Valentine's Day I got the heart. He still treats me every now and then. Well, Eric got me Daisies for my birthday. I used it to make, bible verse tags for my SS kids, cards for their weekly letter, and a fabric postcard for my Mom this week. They cut fabric or paper.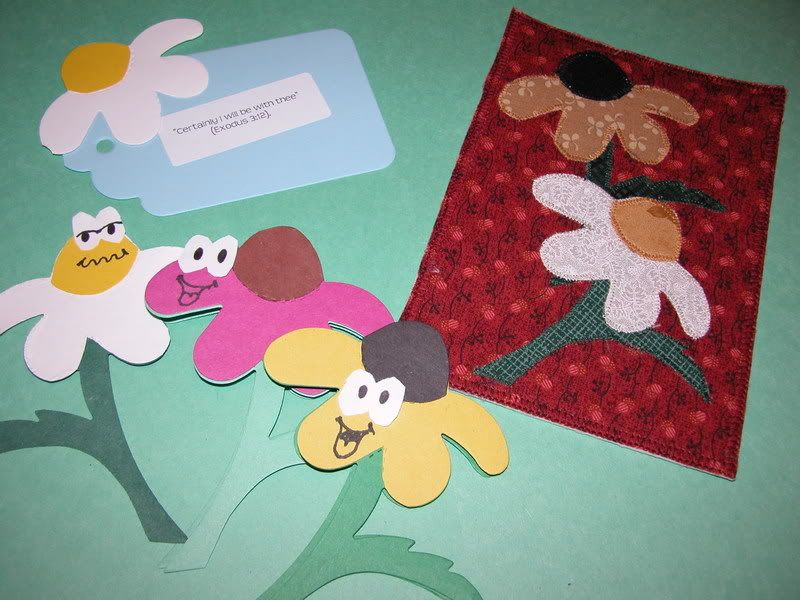 Lots of first this weekend. The first time in 2007 that Ransom and I made our hike without boots…. I might as well as had ballet slippers as good as those tennis shoes felt compared to heavy boots. Another first--- no jackets… It got in the low 60's, and while I realize it's early for the temperatures to be permanent….it sure is fun to pretend that winter is over….
Eric spoke at Purdue this weekend, had fun. He spoke with his Pharmacy Frat or student government or something. Wish I could have heard him. I've always told him if the Pharmacy thing fell through, he could always be a Baptist preacher….He looks great behind a pulpit…. He just laughs….
Gratitudes:
1. Belated birthday cards from my SS kids
2. Sleeping late 2 days in a row.
3. Phone calls with my Mom.