It's Sunday evening and the weekend is winding down. I have a week's worth of quilt pictures to share so it's pretty well safe to say I've had enough "Quilting Therapy" to get me through the week.
Here is My Primitive Garden January block of the month completed.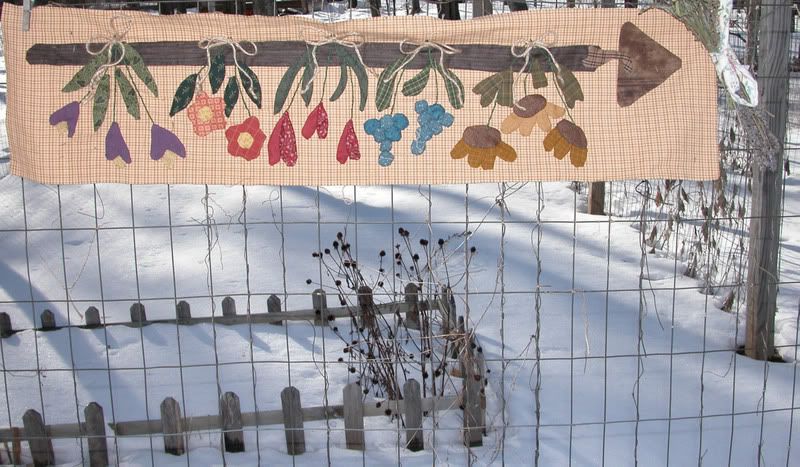 I'm half way through with February too. I didn't sign up until 6 weeks into the year—I'm a contemplator--- so I'm a little behind. I'm hoping to be caught up by the end of the month. I stressed over it for a while. I've been working on my "attention to detail" component in my quilting. So I carefully spaced out the flower nosegays. I did them in the order of 1-3-5. I thought it would help make them centered and balanced. Well, when it came time for the 2nd and 4th bunches only 2 flowers instead of 3 would fit. At first, I felt like I flunked a test or something. As long is you don't compare it to the pattern I think it looks fine. Still I was disappointed. Then I talked with a good friend.
She said, "Think about flowers that are out in the world. They are all different - not evenly numbered and spaced. Just make them come out however they want to work - that's how they really are. Not what a quilt designer decided or a fabric shop owner used up to finish some fabric on a bolt. Remember -- quilting is supposed to be fun and relaxing and we should take a little license from time to time."
It was my quilt and I shouldn't care if it matches a pattern or not. And it's kind of like a testament to life, no one else's life is a carbon copy to your own, and there comes a point when it shouldn't matter what anyone else thinks. Thanks, I needed that. And fifty years from now, someone may find it in a thrift shop and comment that it's not a carbon copy of a BOM quilt --- just similar to those BOM quilts made back in the 2000's with variations.
Eric is past the Mackinac Bridge on his way back to school. We enjoyed his visit. I know one thing… I've got to come up with a better meal plan or I'm going the size of a barn. I guess I tried over compensating from him not getting home cooking and cooked huge meals every day—except for pizza night.
Here are a couple of pictures of my two buddies outside—Ransom and Heidi, the neighbor's Springer…
Back to the sewing room…..Until tomorrow….