Just a short note this morning----I'm not going in to work today. Yes, we're dancing right now, you just can't see. I have a 3:00 doctor's appt. Soooo, I didn't want to be late. (yeah, right).
I tried to make it the night without Nyquil, but at 12:30 am I got up and took it. This cold isn't letting go, but it's not slowing me down. I'm off to Green Bay/ Appleton before the doctor's appointment to shop. Just a routine check up, no worries. I'm going alone. Don't knock it till you've tried it.
I got the Buggy barn hearts squared up. Maybe I'll start sewing them together tonight.
No definite plans, when ever I make plans--- they change.
Here is my Front Porch Witch.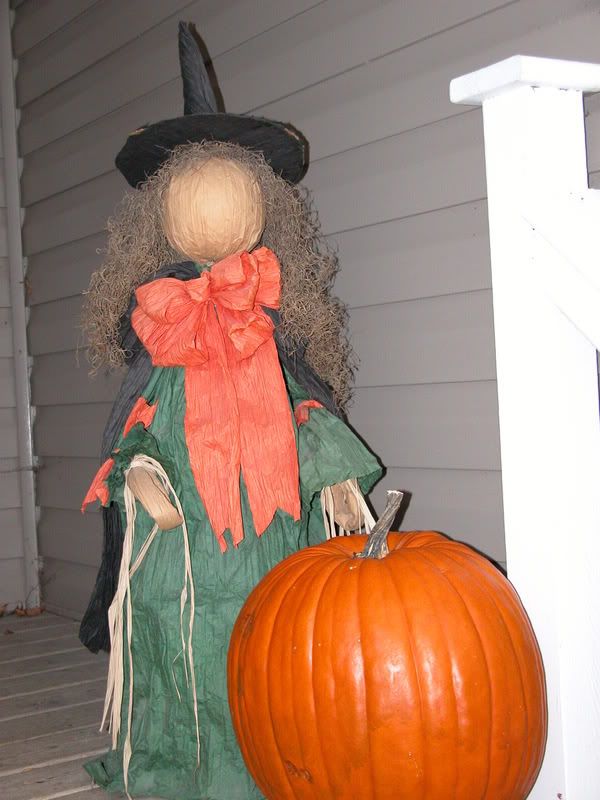 She's at least 13 years old. I made her myself from a wired tomato cage. She has Spanish moss for hair that I picked off of a tree in Louisiana. I've tried throwing her away 3 times. Once Eric, then Chelsey, and even once Don all said she can't be thrown away and pull her out of the trash. So after every Halloween season, we pack her away for next year. I guess she was meant to be with us.
I had 13 kids Sunday in my class. Our lesson was about being a cheerful giver. I guess I'll leave you with that thought. Whether it's time, talents, or money --- it doesn't matter if you do your part in giving--- if your heart, isn't in the right place….
Quilt some for me today…