I am alive. It's the weekend. Don and I are both getting a much needed break. We just completed the most hectic and tiring 3 weeks of work ever. Our Lansing Hangar has been sold so my job should get to a new level of normal. Don's work just went through a maintenance outage –now complete. So we're both at home together.
Enough about work. Here is a photo from my covered porch about 10 days ago. Incredibly peaceful. To sit on a porch swing and look out is the best feeling.
We cleaned the house together today, got the errands ran, walked Ransom 2 miles, and even squeezed in an hour nap. I am fighting a cold. Ever since I was a little girl… put me under pressure and I'm going to catch something. Every semester during finals, a new job, a new challenge…I guess my defenses wear down and I get socked with kooties. I am just refusing to give in. I can be sick during the week…but never on a weekend.
Look at my witch Don helped me build to day.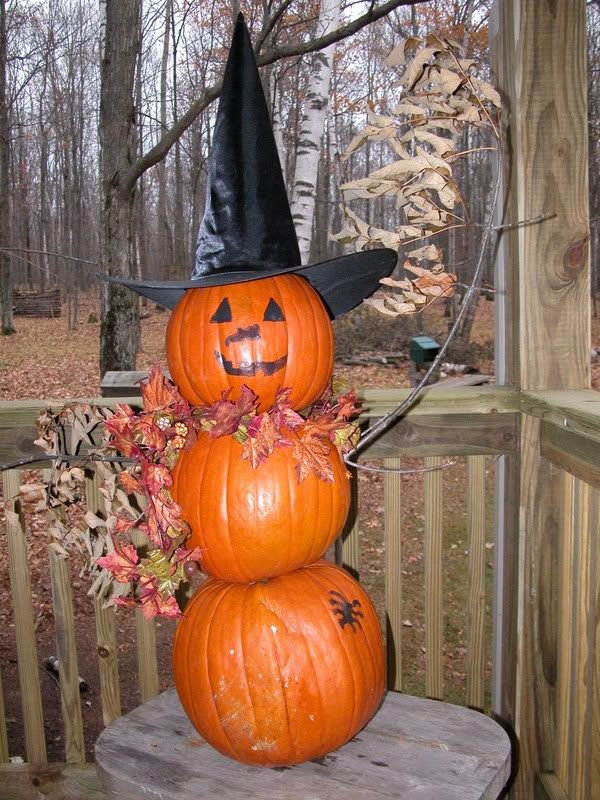 I saw one in Country Home magazine and decided the porch needed one. She's a hip one--- complete with a spider tattoo.
I baked a pecan pie after supper. The 42 buggy barn hearts are complete I'm about to go square them up and start piecing them together.
It's definitely a great weekend.
Gratitudes:
1. Spaghetti for lunch
2. Broken in tennis shoes
3. Day-quil to ease the pain of a cold.