It was a great weekend. I laughed, Sunday evening Chelsey, Don and I were all pouting not wanting the weekend to be over. I guess they are never long enough. Don starts a maintenance outage at work, so he'll work for the next 21 days, 12 hours a day. So Chelsey and I are pretty much on our own.
The leaves are really turning. We're supposed to get up to 75 degrees today---no complaints. Chelsey and I went to Green Bay Saturday. I bought 2 skirts and even went to a quilt shop. I'll show my purchases tomorrow. I work in an airplane hanger, in the back of an airplane hangar. Chelsey asked why I was even buying skirts. Well, you don't work 24 hours a day, and occasionally I'd like to look like a girl. It did my heart good and it did make me feel like a girl.
I had nine kids in Sunday school this week. We didn't string apples because I was scared I didn't have enough, so we painted instead. Flexibility was the word this weekend. Lots of time things don't go, as I want them to. The right food is not in the cupboard, the cable doesn't work, the laundry is piled high. I could get mad or disappointed, but when the fit is over, nothing has changed and time (a precious commodity) is wasted. Trust me, this a real growing point for me… And I'll keep working on the apples.
I put out some Halloween things—Thirty days of ghosts and goblins. Yeah, I'm Baptist Sunday school teacher that thinks Halloween is OK. We don't have séances or practice witchcraft, it's just a big costume festival. Usually, when my kids were little, it snowed on Halloween, so the holiday was like Christmas caroling through the streets, but instead you went for candy. It's kind of like movies, you know they aren't real, but it's fun to pretend and be scared and realize it's just that---pretend…
Quilting---I'm still plugging away on my buggy Barn quilt. Here's the fall quilt for today.
It's from Backyard quilts, a small 16 x 12 size. Here's where it's sitting in my home.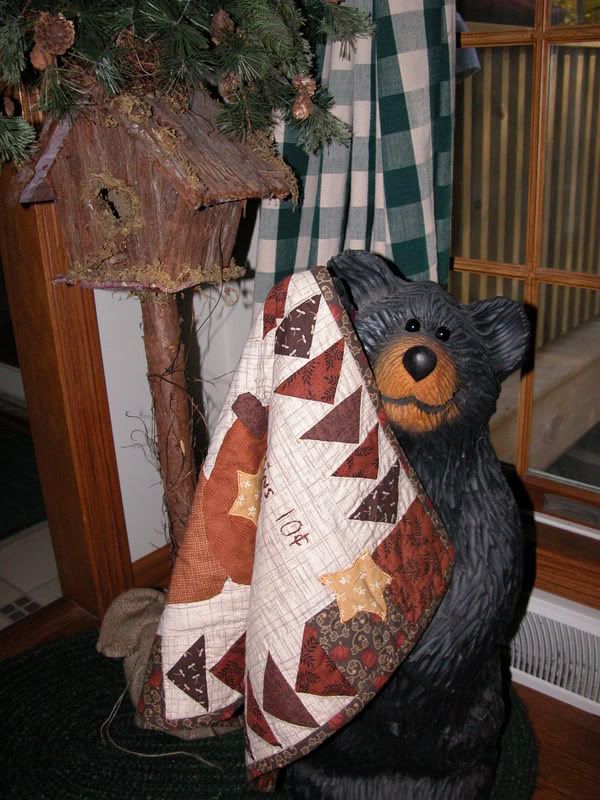 Gratitudes:
1. My daughter---my shopping pal.
2. The Bar-BQ grill—grilling season is coming to a close.
3. Acorns – falling from the oak trees.