The weather has been in the low 60's all week, It rained Monday and Tuesday, but yesterday was gorgeous. After work, Ransom and I were out in the woods for an hour. You know one of the best things about Fall – aside from the colors – It's the smell. We're not going to get analytical and talk about composting and things dying, we're just going to enjoy it because it happens just once a year. I don't think any other "season" smells this great. Ransom is totally intrigued with the chipmunks and squirrels stock-piling for the winter.
I played in my sewing room while Chelsey and her friends had a Psychology study group. I never took Psychology—never wanted to know how crazy I was. But she's really into it. Her first test is today.
Soooo, 5 days in a row, I've done some form of sewing. It really helps my attitude about a lot of things on a lot of levels. I think I should make it a priority.
O.K.—The Buggy Barn Quilt. After getting the 3 color groups lined up, I pinned the pattern to each stack.
Remember, fat quarters aren't all the same size, so lining up is important. The next thing I did was cut away the extra fabric--- but don't discard.
I'm going to add a pieced border, I've never made one, so this will be my first. You know why this will be great???
I never know what border pattern to do when quilting a solid border, so a pieced should be easier. The little scraps I'm going to use in my quilt journal. I even save the printed parts on the selvage that says the fabric name.
Fifty years from now when my great-great-grand-daughter looks that my quilting journal, think about it….. She'll see fabric names and swatches—I think it's pretty cool…
Remember this isn't a paper-piecing quilt, it kind of a planned crazy quilt.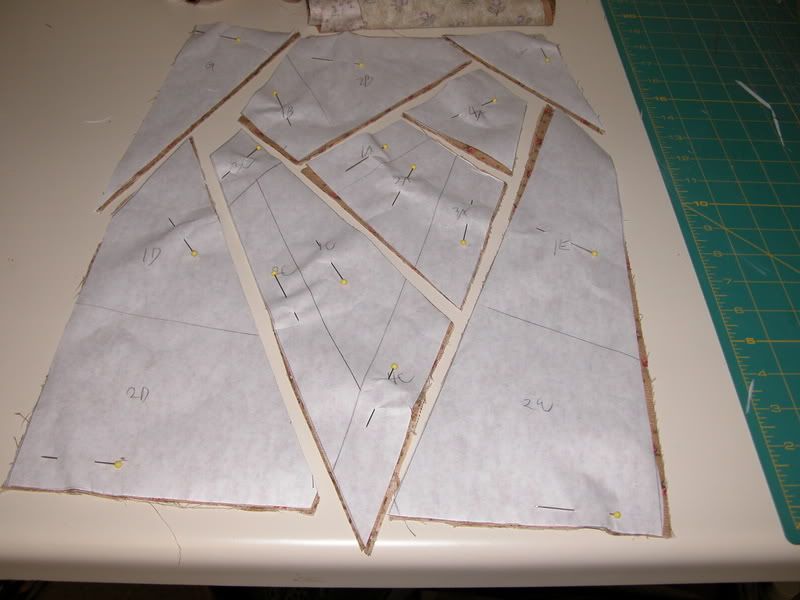 The next thing you do it start whittling away the pieces. I pinned each one because location is important.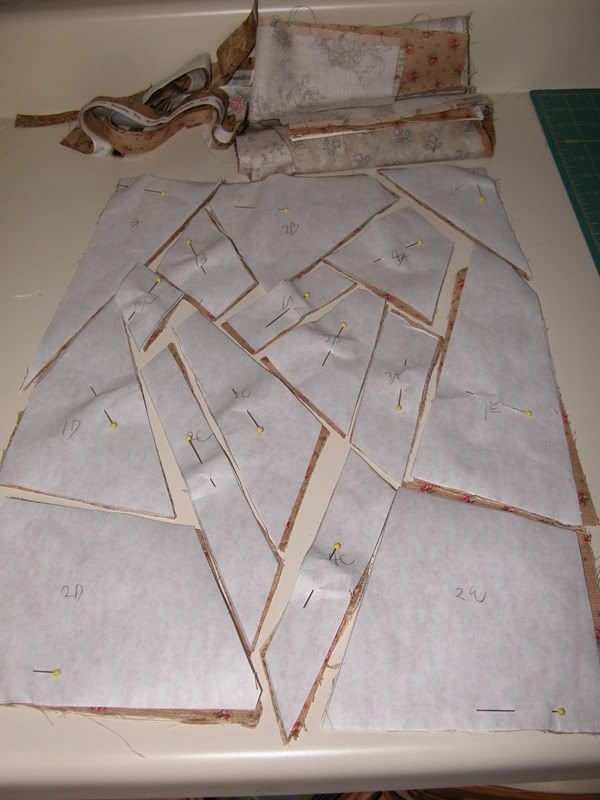 You repeat this process for all 3 colors—
I've got a meeting at Chelsey's school tonight, so no quilting but I'll read about yours to make up the difference.
Take care—
Gratitudes:
1. Sunny days
2. Ritz bits crackers
3. The car heater warming my feet on the way to work….