It's a rainy Wednesday with a high scheduled of 54 degrees. I still say the rainy days help you slow down. I wouldn't want a steady diet of it, but every once in a while is OK. Eileen asked about my recipe for Chocolate Chocolate Chip Muffins---OK, You got it….
We could surf the Internet and come up with an elaborate recipe, but this one is great, especially for working Moms. I whipped up a batch this morning to mail to Eric. I left two on the counter for my favorite daughter too. She's back to school today. She's gonna live. I have a tough time dealing with stomach flu; I don't know how Moms do it with a really sick kid.
Quilting, There hasn't been any going on the past couple of days…maybe tonight. Here's another favorite of mine—My rocking chair quilt.
It was made from a Country Threads pattern. I saw it made up in a quilt shop in Green Bay. It's made with brush cottons, a look of flannels without the bulk. The Pattern is supposed to stop after the letters but the extra column is added to give it width. I hand quilted it. I'm kind of partial to plaids. Each pumpkin is quilted a different way—with hearts, or stars, even a tic tac toe sketch on one of them. ….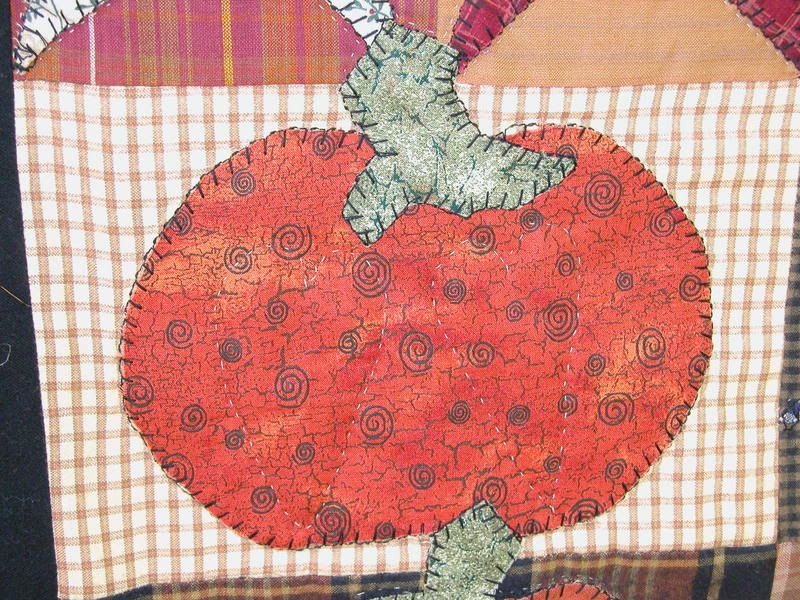 I grew up in the generation that you were taught to match your plaids. I had limited fabric to work with. I realize in the 'folk art' world, matching plaids is not necessary. It's just hard to 'unteach' that part of me. ….
So, I camouflaged the mismatch with stars. The eye-catching part of the quilt, the reason I wanted to make my own, was that crow in the middle. I just loved it.
Gratitudes:
1. Time – running its course to heal the viruses.
2. Bake Potatoes – extra butter
3. Orange Plaids