I want to get these in the mail today. I'm always running about three steps behind, so we throw them on the couch and take a snapshot. I'm sending them to
Clare
today for the Quilts for Leukemia project.
The fish block didn't turn out great—points don't match and the pattern said 8-inch block, I thought it would finish at 8.5 for seam allowances. But folks, when the instructions say 8-inch block---they mean 8-inch block. Her group may come up one block short and they can stick it in a bottom corner some place…or toss it. The other two blocks came together real well.
Chelsey had a 24-hour flu bug, but she's on the mend now. I laughed with her last night as we worked on that insane calculus again. She gets it, I think it's just a confidence think she's lacking. Trust me, working with me on it, is a REAL confidence builder…it's like a foreign language to me.
My 3-4 yrs olds in Sunday school made potpourri bags for their Moms last week.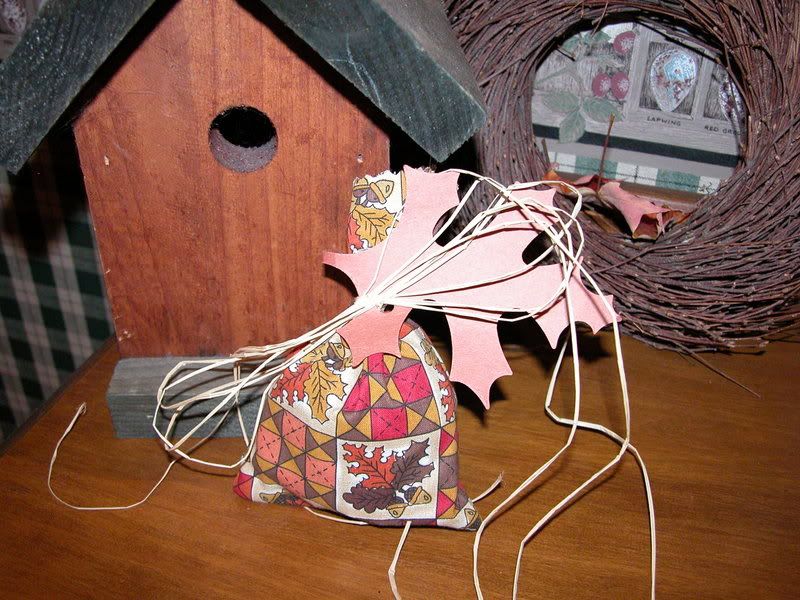 They don't have a lot of coordination at that age and you can just crayon color so many pictures. I sew up fabric bags and they fill them with the potpourri pieces and we tie them with raffia. The kids have fun. Chelsey says it's just an excuse to play with fabric…..she may be right.
I'm drying apples like a mad woman this week. We're going to string them in Sunday school this week, if I can get enough done.
Gratitudes:
1. Email—Makes the world a smaller place.
2. Apples
3. Gasoline prices are falling….