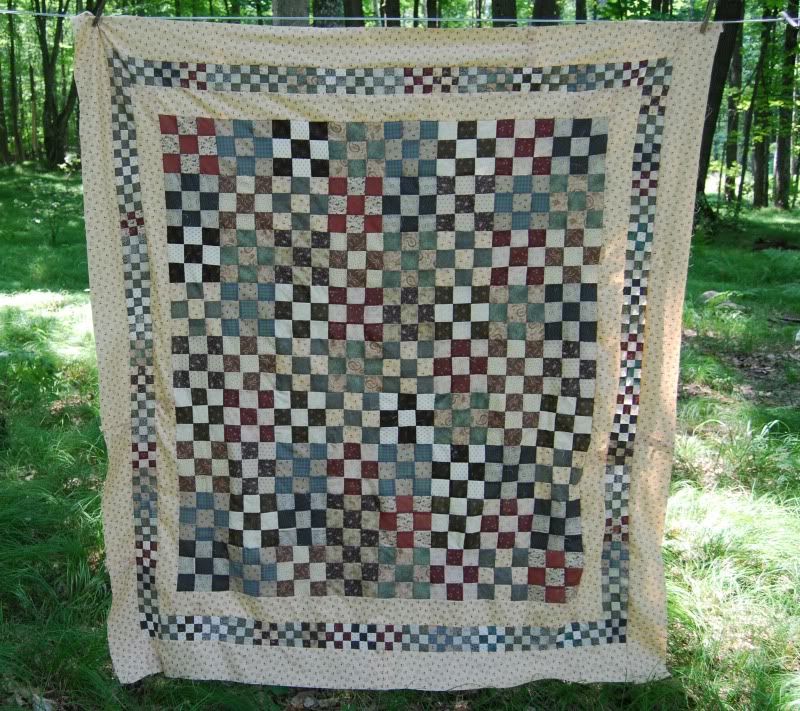 I put the border pieces together yesterday. Now we've got the dilemma of getting down in the basement and getting this baby quilted or tucking it away until a rainy day for quilting. Yeah - I'm the optimist that dreams of having it ready to cover a table for a dinner coming up next weekend with friends....
I'm pretty proud of this one for a few reasons. I used up fabrics I've had for a while. The piecing isn't too shabby. I'm learning the hard way, that quilts don't have to be complicated to be beautiful.
Carol
at Brown Quilts gets ninety nine percent of the credit. It's her design. She's a neat lady.
I knew this summer I wanted to work on square blocks. For some reason I have just been drawn to them. I'm the one that does quilt doodles in business meetings. I wasn't short on ideas or patterns. These are waiting in the wings....
They are all beautiful. Why did I choose Love...Mamie....first? I chose it because more than quilting itself, I wanted to talk (or type) with someone else about quilting. It's a lot more fun if you have someone to talk to. I'm supposed to talk about Nuclear Energy at work--- that's a far cry from quilting. Now onto the next great piece....
OK-- I now know the reason I haven't had much quilt talk. Kind of figured I hadn't posted much,so 'out of sight---out of mind' But I now realize Blogger has been holding onto 50 comments that I did not know I had.... I am so sorry... I am emailing tonight.