OK—The photo does not in anyway do the fabrics justice. They're just wonderful.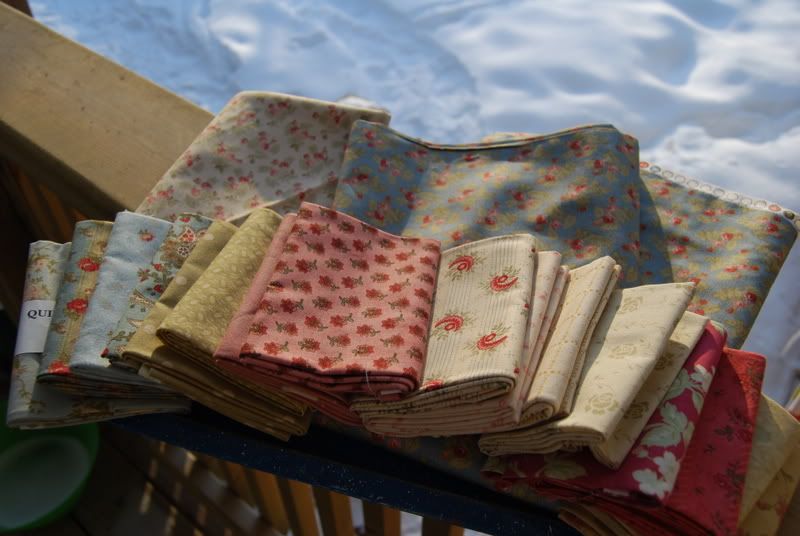 I justified the purchase as needed therapy, my contribution to economy stimulus, and cabin fever rebellion. Saturday Don was feeling "antsy". It was gorgeous outside but with a scheduled high temperature of 13 degrees we opted for a lunch date in Green Bay. The Quilters Connection was having their end of the month deals. Just looking at the displays will inspire anyone. The quilt I'll make with these fabrics will definitely have scallops I've decided, and probably lay on the porch swing through the summer. The colors are quite a contrast from the browns, reds, and greens the keep me warm through the winter.
Walking to the register, I look at the checkout girl, " That's my husband on the cell phone by the door, please just ring this up and do not say the total out loud…It doesn't hurt if he doesn't know…." She grinned I paid for my fabric and Don lived happily ever after.
"So, how much does a trip to the quilt store cost?''
"Don, you really just don't want to know…"
We've been trying different wines from Door County Wisconsin. We went and picked out a couple of new ones. We stopped at the meat market on the way home and picked up pork chops for grilling. It was a great day.
Yesterday I finished quilting my Four Seasons Quilt by
JoAnn Mullaly
. It just took a week. I started to attempt a fancier pattern, but I had studied hers in the photos and she had just done a meandering pattern and it was something that I didn't have to think too hard on.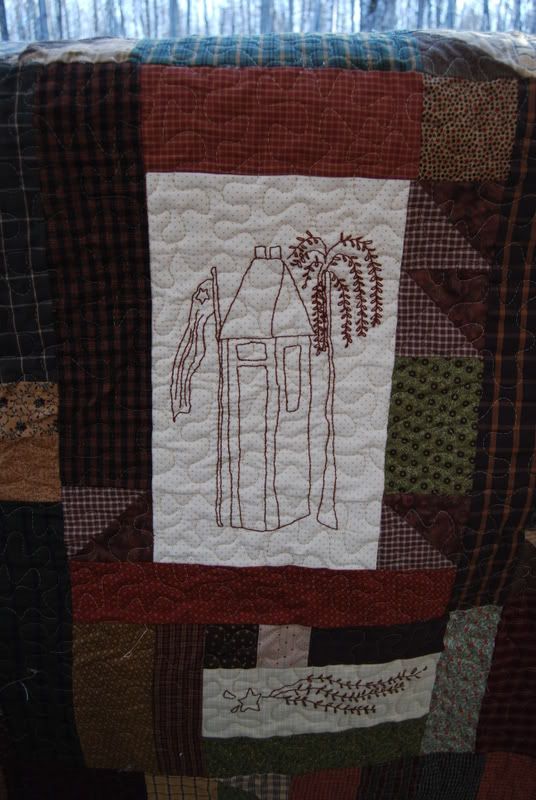 The quilt speaks for itself. It didn't need dressing up. Several have contemplated decisions on whether to quilt over the embroidery. I quilted right over mine. Here is a snapshot. I really like the look and don't think the quilting took away from it at all.
I've got bulletin boards to set up for my Sunday school class this week as a new quarter begins. I've opted for a cabin theme this quarter…"You're never out of the woods…until you Know God…" Maybe I can share pictures later in the week.
I've got a little girl with Chicken Pox in class. So I think that definitely merits a new box on crayons for her. I'm off to Wal-mart today.
Gratitudes:
Fresh pot of Soup for Supper tonight
Ribbon
A 20-year-old embroidery hoop