Last night I worked on the handwork portion of the binding of my Four Seasons quilt. I always say it gives me a permission slip for television watching. I was focused on the having the batting and the backing for the BOM quilt when it was completed, but gave no thought to the binding. When it came time to create and attach the binding I had to pause for a second.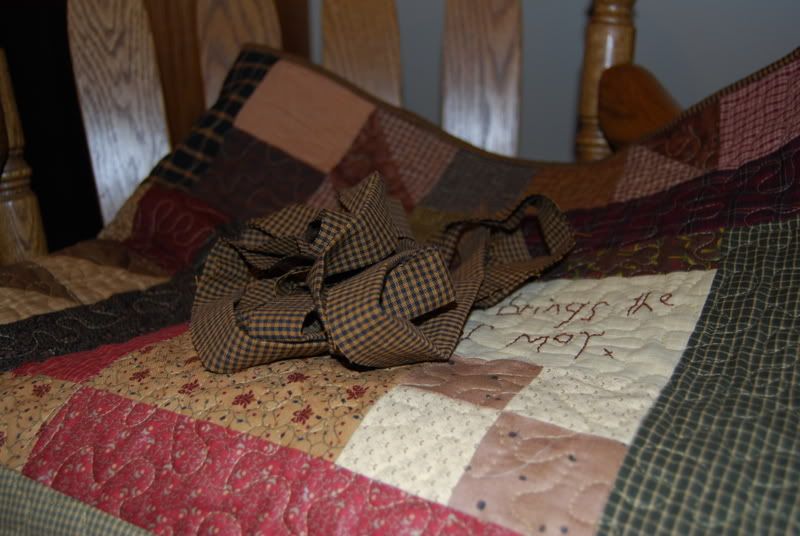 I had left-over backing, but it was a homespun yellow and I knew I didn't want a yellow binding. After "auditioning" a couple of colors, I chose this homespun check from my stash. As quilters, we talk of getting rid of our stash of fabrics, lowering the yardage. There are articles and even books written on busting through the yard goods we stack on our shelves. While I don't have a closet full of fabric I do have a cabinet full and have photographed it in prior postings. I was really thankful for those shelves of fabric because I went to the shelf and chose fabric that worked--- without traveling through an ice storm, without added postage. It felt pretty good, that after working all day, I just open a cabinet door and had fabric waiting for me. Bindings aren't my favorite part of quilting, and after committing to the project I was lucky enough not to be slowed down.
Here is a photo of a quilt my Grandmother made roughly forty-two years ago. The binding on this quilt is the backing folded over twice.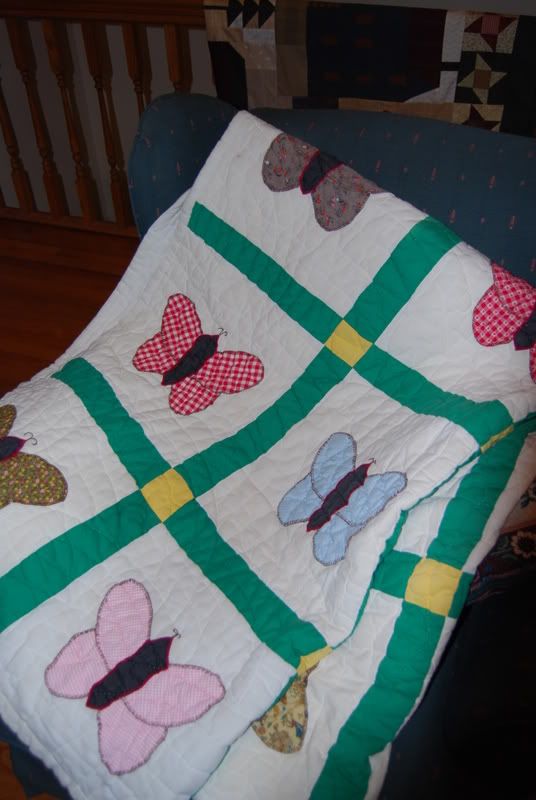 All of her quilts were made this way. How did I know how old this quilt was? There is no label – but this block is made of fabric from the dress my Mom made me from my first day of Kindergarten.
So, by my estimation--- I'm in the ballpark. Muslin was always a staple in her quilts.
When I first started quilting, I read anything and everything I could find on the subject. That's when I learned that it was better to make separate bindings because that is one place that a quilt gets most of the wear and tear. Think about it--- it's where we reach to tuck loved ones in, cover ourselves up when we're cold. Bindings made separately can always be replaced. I have a couple of my Grandmother's quilts. I've studied the hand-quilting in detail. I've investigated the way she created her appliqué, and I've look at the worn bindings carefully…realizing she must have tucked many loved ones in with those quilts.
Good memories.
Gratitudes:
Warm socks
My lunch box
My rocking chair