I had received a letter from a close friend. We have been friends since the fourth grade. She moved away from my hometown in the 9th grade.Her name is Tenza. She was made of honor in wedding. We had kids around the same time. And even though I can count the number of times I've seen her in the last 35 years on one hand, we have tons of memories along with phone calls and letters that have kept us friends.
When we were in the 6th grade, Tenza started an embroidery brigade at recess. It centered around this 1973 Simplicity Pattern – Holly Hobbie.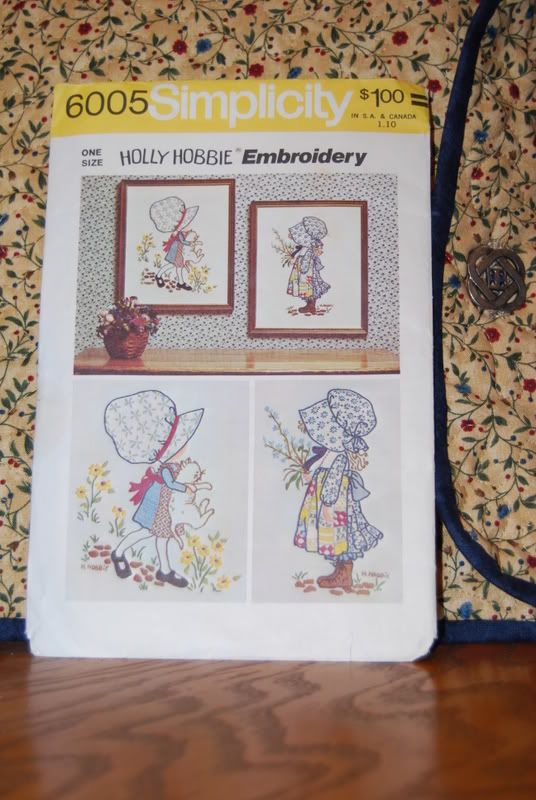 It was an iron transfer. A group of us bought boys' chambray work shirts and began stitching. We added doodles to the cuffs and pockets. But it was Holly Hobbie on the back holding flowers that I remember most.
Until a week ago--- I had never purchased anything on Ebay. No particular reason, Maybe the fear of losing, I don't know, I just never had. On a whim --- I put in a bid…. And won the pattern. I received it, wrote a letter, and forwarded the pattern on to her--- not an email, but a letter that I hope she reads over and over again with the pattern and gets at least a week's worth of smiles.
I don't know what ever happen to my shirt. Wish I did. I guess I didn't appreciate it enough. That's one thing I've pressed upon with my kids is the appreciation of a handmade item. No—the stitches may not be as even or as tight as if a machine had done it—but wow --- think of the time and effort that poured over the needle and thread.
I've tried bidding on another Pattern 6005, one for myself, but didn't win…. But I know without a doubt the pattern I did win was meant for her….