Plenty of Porch Swinging going on in the U.P. as the temps have been warming up. We have metal gutters so it's like music hearing the melting snow trickle down the columns. No complaints in our house.
Thanks for all the birthday wishes. A friend in my office gave me fat quarters and packaged them even prettier than the fabric.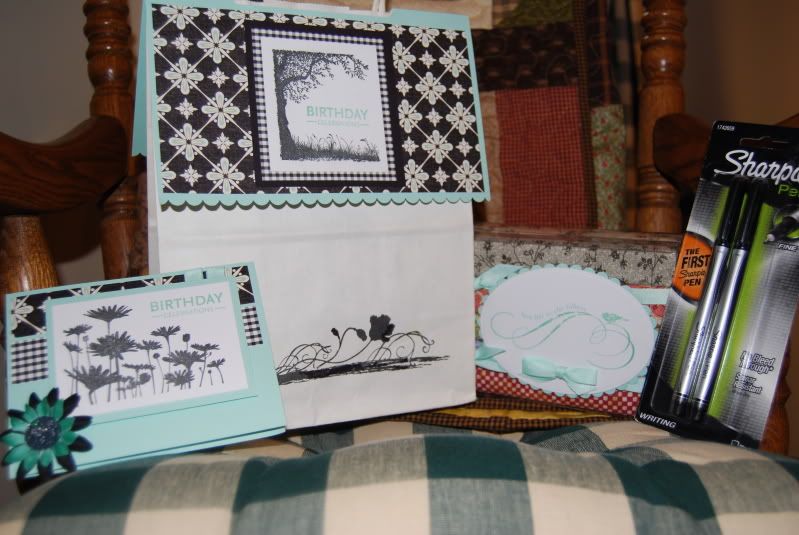 Also included in the package is chewing gum. It's for those days that it's tough working with rooms full of men. You have those moments when, even in anger, tears come and you completely don't want it to happen--- that's why at holidays we always give each other chewing gum.
I've been catching up on my BOM blocks. Hopefully I'll have photos in a couple of days.
I wanted to show a frame in honor of Saint Patrick's Day. About eight years ago, we took our kids tubing down the Pine River. It was a lazy river close to home that bends and twines around trees. We've seen bear, beaver, birds of all kinds, and deer. On this particular day, Don loses his car keys in the bottom of the river. There were other people At the dock where we pulled in, so they gave Don a ride home to get the spares. That left the kids and I there with four inner tubes and a ton of mosquitoes. After spending 20 minutes reassuring Chelsey that Dad wasn't talking or messing with "s-t-r-a-n-g-e-r-s"… We set out a way to pass the time. I remembered how my Mom and I used to look for four leaf clovers. She always found them--- I never did. I saw some patches of clover and we set out on a mission. Well, lo and behold--- we cleaned up on 4 leaf clovers! The kids were totally impressed and the time flew by. I saved them in this frame as a memory.
OK—maybe they aren't shamrocks or even clover, I'm not a plant authority… didn't matter. We thought they were. I felt incredibly lucky that day… and still do.
(I always wonder – did I start finding them because I'm a Mom now, Or Did I just get "Lucky" now because I'm a Mom?????)