After playing with Libby about her
Bunny
, it got me thinking about mine. So I decided to share. She was created in 1992. Remember I live in a small place that considers itself lucky to have a Wal-mart. This bunny was created before the Wal-mart days.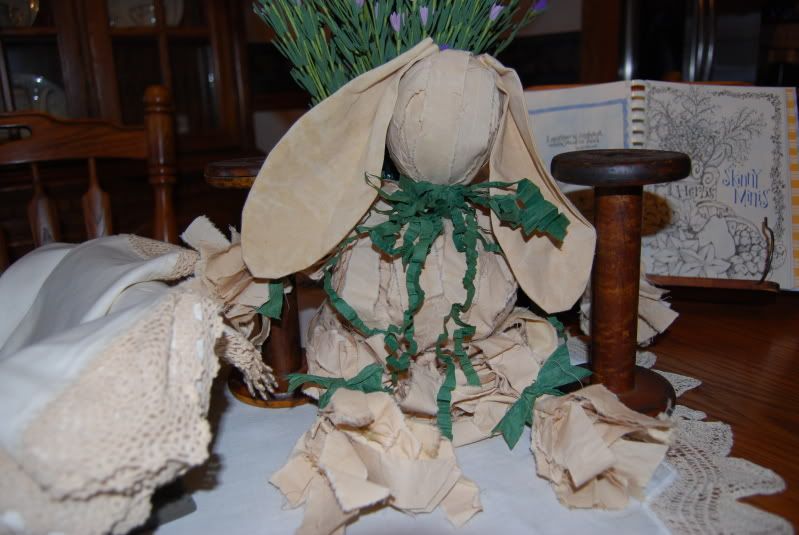 I had seen a pattern similar to it in a Shopko store and totally disregarded it as ugly. I went to visit my sister-in-law and she had just purchased a wreath with the same bunny for an ungodly amount of money. I loved it. Sometimes, pattern photos don't things justice. I studied it and came home and made my own.
It's made from Muslin stripping and a Styrofoam ball. The ears were created from muslin on the sewing machine. I don't know what it is---but the bunny just charms me… I'm in need of some signs of spring so the bunny is coming out of the chest…
I've had Eric home for the week for Spring break. He has come down with a cold. Totally angry about the entire thing, he says it's just not fair. I keep telling him he's looking at it the wrong way and at least he's sick at home and isn't juggling classes and being sick at the same time. And I am getting an entire pharmacy course in over the counter medications from my pharmacy student son---totally educational. We had vicious Scrabble games last night and laughed until our stomachs ached. It's good having him home.
I guess I'm chatty this week --- it's my 3rd post. We're back to sub-zero weather early in the morning. But it warms up to the 20's by afternoon. Tomorrow's friday -- maybe that fabric will get cut into this weekend. Thursday night--- Chinese take out night....