I haven't posted in a week. Life has been getting in the way I guess. I 've been working on hand quilting my Mom's valentine table runner. Here's a photo of it in the flimsy stage.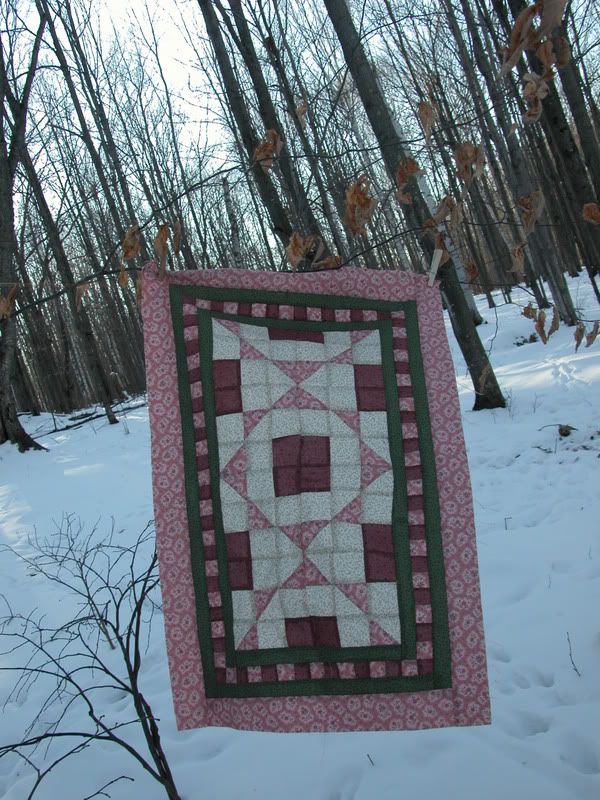 The wind was whipping while I tried to photograph it. We'll show a completed picture later.
Chelsey turned 17 on Sunday. You have to realize we don't have birthDAYS in our house--- we have birthFESTIVALS that last about a week. And Chelsey attempts to get the most 'bang for the buck.' The temperatures have been frightful. 17 below in the mornings. Sunday it never came above zero. Think about it…At –17 degrees, it could literally warm up 48 degrees and still be below freezing. I had to pull the parent card and say, "no sledding" and "no ice-skating" over the weekend. It just wasn't safe.
Eric tried to come home Friday, but got about 20 miles out of town and had car trouble. It was weather related so we looked on the Internet and lucked out and found a good mechanic that had a son away at school too, so he took good care of Eric. It was one of those times when I didn't want Eric to travel as much as I wanted to see him. But you never want to tell your kid they can't come home. But we've decided that we're going to have too. He even said the university was telling people to stay in side.
Hope everyone is staying warm.
Gratitudes:
1. Our furnace.
2. Green quilting thread
3. Devil's food chocolate cake for Chelsey.