I haven't done much quilting this week. I worked on my Sunday school lesson, the general day in –day out stuff at home. The weather got up to 50 degrees one day. Ransom and I took a walk without a coat- Defiance I call it. They're predicting snow this weekend, but the break in the weather was nice.
Hopefully, I'll get to leave work a little early today and I can knock out the housework where we'll all get another free weekend. That way I'll have quilt pictures to post.
What do I do when cabin fever sets in? Some people really get it bad this time of year because the winters are long. It's a mind over matter thing for me. It's something I talk myself through. And I change the dishes and the quilts.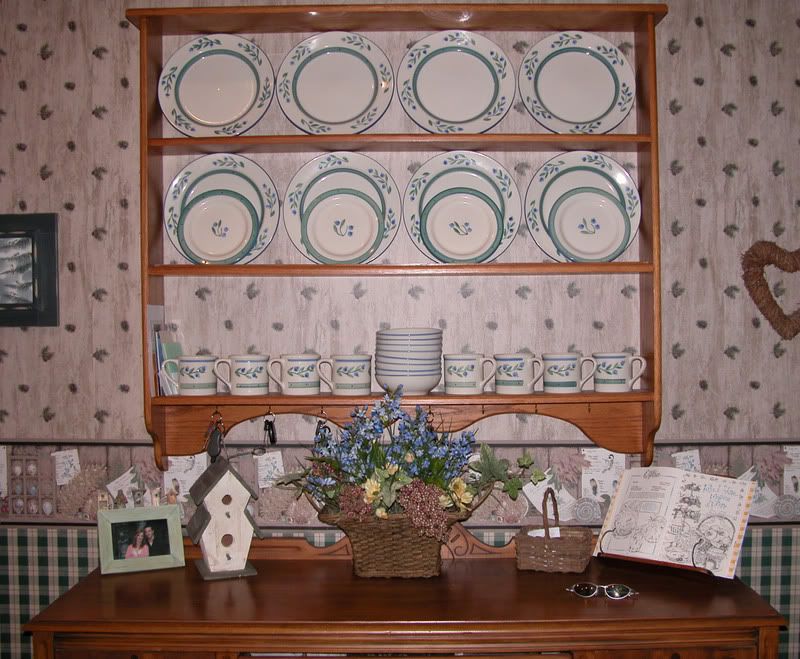 Here are the dishes that will get me through March and April. Blueberry dishes. I'm rushing spring but I'm tired of snowmen. They were gifts from Don one Christmas. These are the best mugs for soup.
I definitely need to work on spring quilts.
Eric's got one week until spring break. My folks are doing well.
It's funny how the Good Lord always gives you just what you need. My bible readings this week dealt with complaining. When Moses lead the Israelites out of slavery to their "Promised Land", they complained. They were tired. Things weren't easy. They were hungry. Many times they lost focus on their purpose. I think I needed that—at least I've spent the week thinking before complaining and then choosing not to.
Gratitudes:
1. Longer days- the sun is beginning to rise as I go to work.
2. Recognizing my limits
3. Bubble bath