I've never taken a quilt class. I've read about them. Sometimes when I look at quilt shops on line I read their class lists and look at the quilts that would be made. Maybe money was the issue, but more often than not, it's the time factor plus living in a small town where there are no quilt classes. When Lynette Jensen came out with the second Thimbleberries hardcover book, I saw so many classes popping up to create the quilt, "The Lost Mittens". So I looked up the quilt—I love mittens--- but the quilt didn't do anything for me. In fact, I really didn't like it. Later I saw kits for the quilt, I thought, whatever. Well, Chelsey and I went shopping in Marquette and I saw the quilt made up…. I loved it. As dumb as it sounds, quilts speak to me--- and this quilt said a lot. Of course, being a thinker, I didn't buy any fabric for it. I let the opportunity go by. But I couldn't get the quilt out of my mind. Three days later I'm calling the shop---I really don't care what colors, just put some Thimbleberries flannels together and the wool pieces… I have to make this quilt.
So a few stitches later here it is…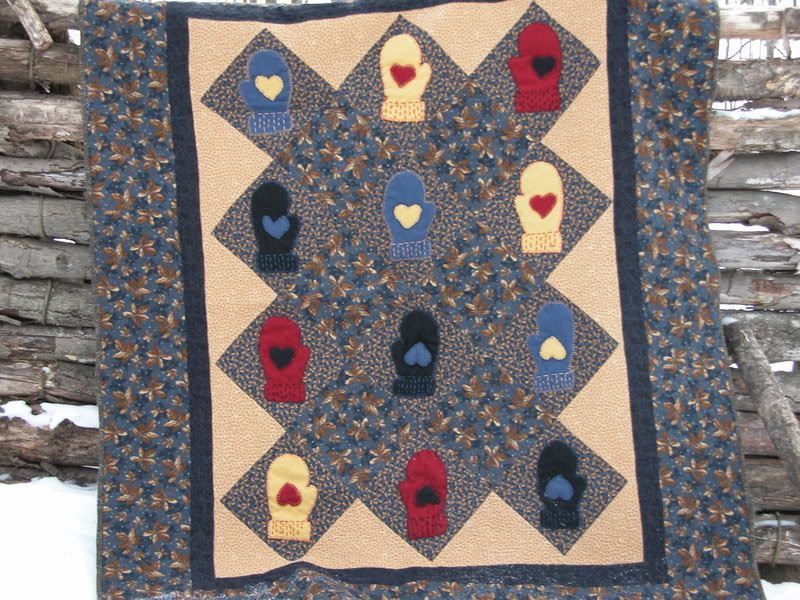 OK—You're probably like I was---"I don't get it" kind of mood….But when I saw it in person, this is what I thought. It's hard being a parent. Many times you are incredibly unpopular because you have to make the tough calls. 'No, there's nothing you can do after midnight that you can't do before…"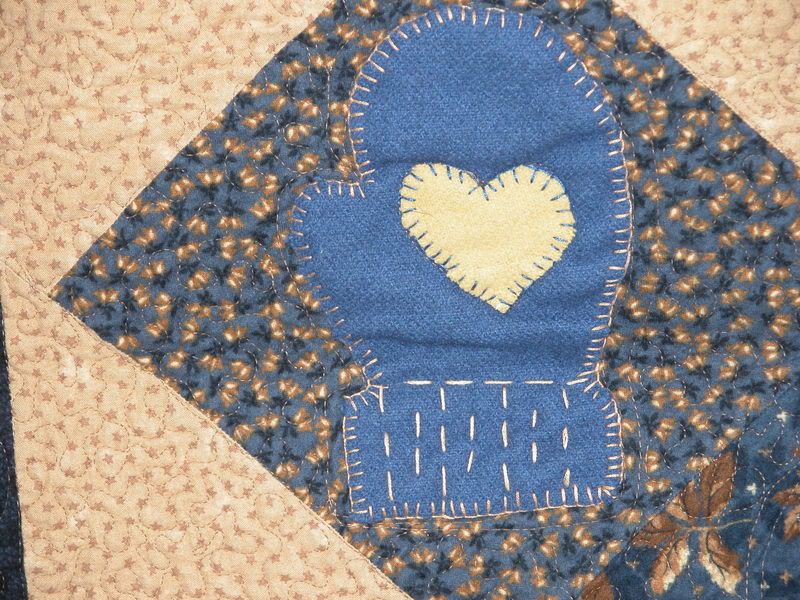 " No, you're not leaving the house with that much make up on…" "If you get a MIP (Minor in Possession of Alcohol) You're done.".
Your heart wants to be that hero- that be all- do all- Popular person in your kids eyes… but your mind knows that you just can't be that and be successful at the task--- to be a diligent parent."
But I can tell you--- I WILL be an outstanding Gramma. I can just picture (About 10 years from now) being wrapped up with a grandbaby trying to match the mittens on this quilt.. Can't you???? I'll tell them funny stories about their Mom or Dad. We'll have cookies and hot chocolate from Snowman dishes and cover up with this quilt.
It was the first flannel piece I ever made. The mittens are wool. Year round it's folded on a chest downstairs and it's everyone's favorite to cover up with and watch TV—Even Don talks about it.. and He doesn't comment much on quilts.
Gratitudes:
Turkey tracks in the snow
A Gorgeous Sunrise this Morning
Chicken Noodle Soup for Lunch